Breaking Cycles of Poverty in East Chicago
Celebrating the Grand Opening of Indiana's First Zero Energy Affordable Housing Building
The Harbor Square project, along with other affordable housing projects in the area, was envisioned to help shape a new future for the city of East Chicago. East Chicago, Indiana is the home of the USS Lead EPA Superfund site, which, unfortunately, is located on the former home of the West Calumet Housing Complex. This public housing project was home to more than a thousand residents at the time of its closure in 2016, all of whom were exposed to lead in the soil left behind by the previous industrial use of the site. The housing project was built in 1972 and in operation until 2016. A recent report by HUD's Inspector General shockingly found that lead contamination at the site was known since at least 1998, but residents were not warned, despite many of them noticing significant health and development issues among their children.
The city of East Chicago and nearby Gary, Indiana, became a priority for housing funds due to the dire housing shortage exacerbated by the closure and demolition of the West Calumet Housing Complex. Residents in the area also faced poor air quality, a lack of healthcare infrastructure, and weak economic prospects. The Harbor Square project and others (including the Broadway Lofts project, another ILFI Affordable Housing project) were funded under Indiana's Moving Forward program, an initiative created to increase quality of life, promote energy efficiency, and alleviate poverty. The Mayor of East Chicago also strongly supported the vision for this project and the City donated the land for development.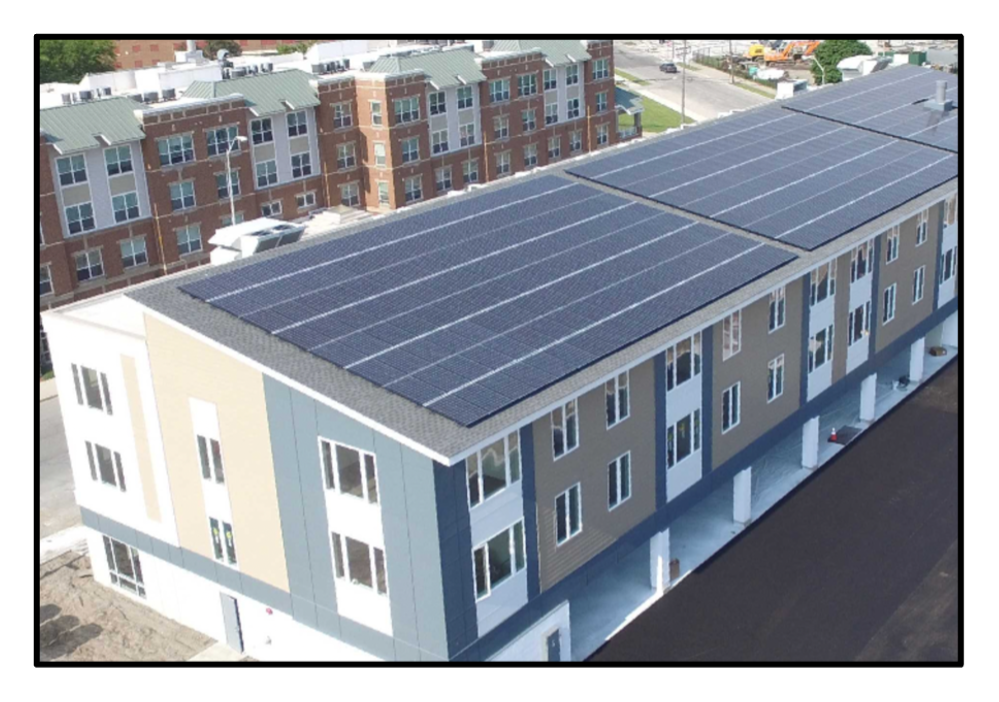 The Indiana Housing Development Authority (IHDA) tasked UP Holdings, the Developer of the project, with tackling transportation, addressing social determinants of health, creating a net-zero energy building, and ending the cycle of generational poverty. IHDA required them to include a poverty expert as part of the development team. The team created a pie chart of common expenses for residents and created a "Community Empowerment Roadmap." Although this project is not considered supportive housing, this plan allowed them to take many components more typically provided in supportive housing to help residents find ways to increase their income. Lower-income households often suffer the feeling of falling off a "cliff" when they move from subsidized low-income housing to market-rate housing when their income suddenly reaches above the allowed threshold for subsidies. The project team ensured that the supportive services would ease this transition for residents and allow for greater economic empowerment of the residents. These services are accessed through the building's 'community hub' space and are available not only to residents, but to neighbors as well. IHDA also intervened and helped ensure that their net-zero energy goals would be feasible from a policy perspective by ensuring that net metering was permitted for this project, though it is not yet widely permitted by the local utility.
The Moving Forward program prioritizes reducing transportation costs for households, as well as eliminating energy bills through net-zero energy housing because these are often the large and overlooked expenses for low income households. The Moving Forward Program recommends a systems approach where costs of transportation, energy, maintenance, and other household expenses are coordinated upfront during construction. The project team found that, in addition, healthcare was usually the third or fourth highest expense for residents. To address this, the project team brought a healthcare clinic on site. They partnered with Healthlinc, a federally-qualified healthcare provider who was needing room to expand in the area. The building now includes a 5,000 square foot healthcare clinic offering primary health, behavioral health, and optometry.
The Moving Forward Program's approach to reducing cost burdens on low-income households. Image courtesy of Indiana Housing and Community Development Authority
Harbor Square celebrated their Grand Opening on August 2nd, 2021. Mayor Anthony Copeland described this project as a "legacy" for the community and an important step to defining themselves as a "city of hope and progress." ILFI's Kathleen Smith, Director of Technical Support Services, agrees that this project serves as an important model for other communities. "Harbor Square brings ILFI's mission to life by providing healthy, safe, and affordable housing that addresses critical environmental, social, and cultural issues all at once. This project provides a welcoming home to 28 families and provides a view into what we mean when we say a "Living Future for All!" We express admiration and gratitude to the diverse and dedicated project team for making this project happen."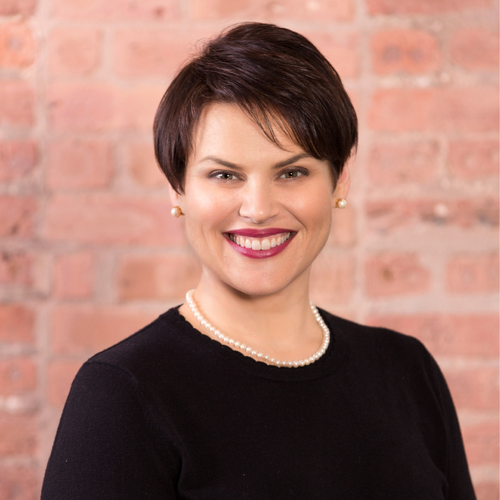 Read the interview below with Jessica Bezerac, President of UP Holdings, to learn more about the project. You can also read more about this project and all our other affordable housing projects on our website.
Can you describe the project and its goals?
Harbor Square is a 28-unit affordable housing development where we aim to not only provide affordable high-quality housing, but also provide affordable utilities, access to transportation, and healthcare. This is all done with the goals of improving quality of life, wages, and assets for individuals and families that have experienced chronic or generational poverty.
How did participation in the Moving Forward program run by the state in order to create more sustainable affordable housing affect the project goals?
The Moving Forward program created a set-aside for Low-Income Housing Tax Credit (LIHTC)† allocation, which allowed the project to be designed around programmatic and sustainability goals without the standard need for statewide scoring priorities.
Why is building a net-zero energy building important to the mission of your organization?
In many cases, including Harbor Square, we as the Developer/Owner cover the cost of utilities for our leaseholders so investments in sustainable systems are critical to our long-term community asset commitment and viable operations. We also feel it's important to show the industry at large and in our region that midwestern projects can achieve this level of green certification in a market where it is not standard and above what funding levels typically allow.
What challenges did you face in developing this project – policy, funding, technical, or otherwise?
Moving Forward 3.0 sets big goals.In the initial workshop, when we were presented with Petals of the Living Building Challenge, it felt daunting and definitely unfunded for an Affordable Housing Developer to pursue things like this. Working on the project changed the way that my firm works and the way that we approach housing design, services for family housing, an approach to tenant interactions, to services partnerships, and what our long-term goals are and what we believe is possible as an industry of affordable housers. Something like this has the potential to really set higher expectations of what is possible as outcomes and what we can do for our residents.
On the policy side there are a few barriers still; for example, the solar tax credits and net metering are not prioritized or streamlined for affordable housing.
This will most likely be the first certified Energy Petal or Zero Energy affordable housing building in Indiana. What strategies can be replicated on additional projects in the state or region?
We ended up pretty darn green on this project, even though it was a challenge because there was not an excess of funds despite the goals of the Moving Forward initiative. We ended up with a full solar array and maxed out the roof area. We will hit NGBS Gold and believe we will be able to hit Zero Energy certification. Zero Energy Certification is important to us, because it's not based on modeling, but on operations. That is important for communications and advocacy and being able to show it, not just talk about it. It is also important for us to be able to use those tools and the lessons in our portfolio learned going forward and to be able to use it in projects as we expand our portfolio.
 †The Low-Income Housing Tax Credit funds a majority of new affordable housing construction each year in the United States. The funding is distributed at the state level where states typically use a competitive process with a published set of priorities that are used to score each project in order to allocate funding to the most desirable projects. The Moving Forward Program in Indiana was designed in order to work more collaboratively with affordable housing developers and encourage teams to work together towards zero energy and other goals.