Introducing the Living Building Challenge Book Series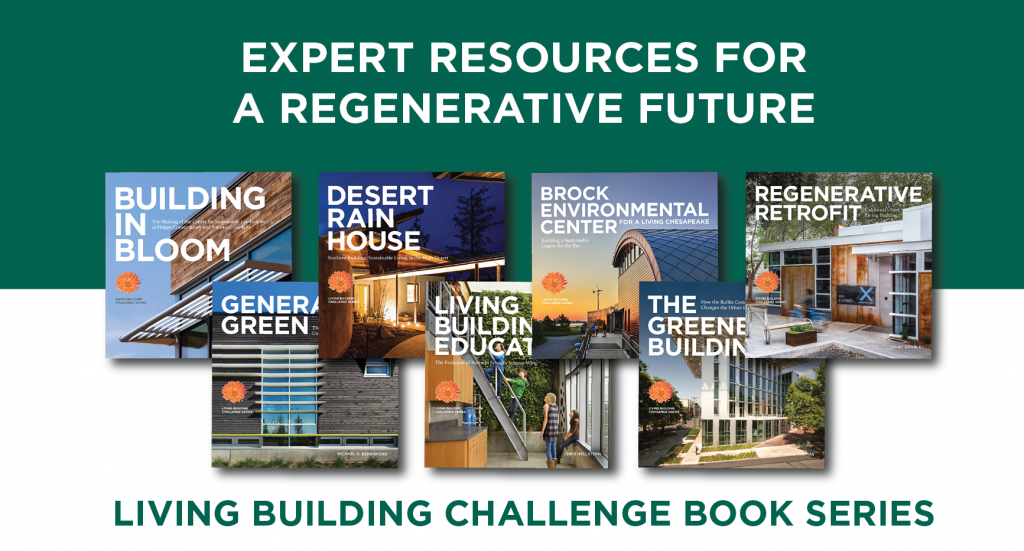 Editor's note: Don't miss the 40% discount offer for this series at the bottom of this post!
The International Living Future Institute (ILFI) is excited to share the consolidation of seven Ecotone book titles under one umbrella – the new Living Building Challenge Book Series. Here's a quick overview of the series and how we envision it as a solution for anyone interested in being part of the greenest buildings for a healthy world.
WHAT
The Living Building Challenge Book Series is a collection of seven (and counting) deep-dive case studies that explore the behind-the-scenes stories of project design and construction for projects pursuing the Living Building Challenge (LBC). Each book combines project-specific details, lessons learned, and innovative solutions derived from the teams who made these projects a reality.
WHO
Created to address the growing public and stakeholder appetite for expert information about Living Building projects, the LBC Series combines key information and design solutions with interjections from design teams, key stakeholders, and building owners about how these structures came to life—from bold concept to thriving occupancy.
WHEN
In 2013, ILFI's Ecotone Publishing launched the Living Building Challenge Book Series to address the ever-growing need for expert information about designing and constructing the greenest, most restorative buildings in the world. Each year the series covers new Living Building Challenge projects in different regions with varying typologies, revealing exciting innovations connected to Place, Water, Energy, Health + Happiness, Materials, Equity, and Beauty.
WHY
This book series presents expert resources and solutions for avoiding aspects of "re-inventing the wheel." Each publication provides key insights, valuable lessons, expert working designs, including materials and product solutions for addressing the Challenge's performance areas: Place, Water, Energy, Health + Happiness, Materials, Equity, and Beauty. Simply put, the series is packed with resources and advanced knowledge that can save teams time and money throughout the planning, designing, materials procurement, and construction phases of any project.
WHERE
To date, the books feature projects in Pittsburgh, Seattle, Oregon, the Chesapeake Bay, British Columbia, Seattle again, plus the first Living Certified Building in California. And coming soon, a new title featuring the story of a 500-year building – location TBA…!
HOW
Fascinating and groundbreaking, each book contributes real solutions to the emerging body of knowledge about Living Building Challenge projects around the world. Plus, use our Bundle + Save discount—get 40% off your order when you buy three or more titles! Visit the Ecotone Bookstore and order your set of Living Building resources today!