Owens Corning (NYSE: OC) develops, manufactures and markets insulation, roofing, and fiberglass composites. Global in scope and human in scale, the company's market-leading businesses use their deep expertise in materials, manufacturing and building science to develop products and systems that help save energy and improve comfort in commercial and residential buildings. At Owens Corning, expanding our impact through sustainability is a core value. They believe that sustainability is an essential element of business.
Ultimately, Owens Corning's people and products make the world a better place. Based in Toledo, Ohio, Owens Corning posted 2015 sales of $5.4 billion and employs about 16,000 people in 25 countries.
Owens Corning, the pioneer of fiberglas™, created a fiber loosefill product and manufacturing process that is efficient and versatile. Owens Corning unbonded loosefill insulation provides industry-leading thermal performance and yield when blown into open attic insulation applications. When blown behind netting via blowing machines, the loosefill fiberglass product naturally close-packs to help prevent air leakage gaps in the building envelope. The product is used in new and existing construction.
Owens Corning's unbonded loosefill fiberglass insulation is manufactured under three trade names:
AttiCat® Expanding Blown-In Insulation and its associated blowing machine, which can be used by either the professional remodeler or the DIY customer.
The ProCat™ Blown-in insulation system product line and machine is designed for smaller contractor use and PROPINK®L77 PINK Fiberglas™
Unbonded loosefill insulation product is designed for the large scale insulation contractor using truck mounted blowing machines.
The thermal resistance unbonded loosefill insulation provides is specific to the particular application. For an open blow attic application, unbonded loosefill is specified to provide a thermal resistance from R-13 to R-60, and for enclosed cavity applications, unbonded loosefill is specified to provide a thermal resistance from R-13 to R-24 for walls, R-31 to R-48 for floors, and R-28 to R-44 for cathedral ceilings.
These products chosen for the Living Product Challenge (LPC) are manufactured in Owens Corning's Mount Vernon, Ohio, facility. The plant is one of the most state-of-the-art within the company's portfolio and is virtually waste-free. The product is produced with few ingredients and the flexible, well-trained support staff made the product and facility combination a clear choice for the LPC.
The engagement began with a stakeholder meeting at Owens Corning's research headquarters in Granville, Ohio, in early 2015. At that time, Owens Corning stakeholders learned about the vision, mission and potential value and traction of the LPPC. Near the end of the year, it was announced at the LPC conference in Pittsburgh, Pennsylvania, that Owens Corning had decided to extend its sustainability commitment and participate in the LPC.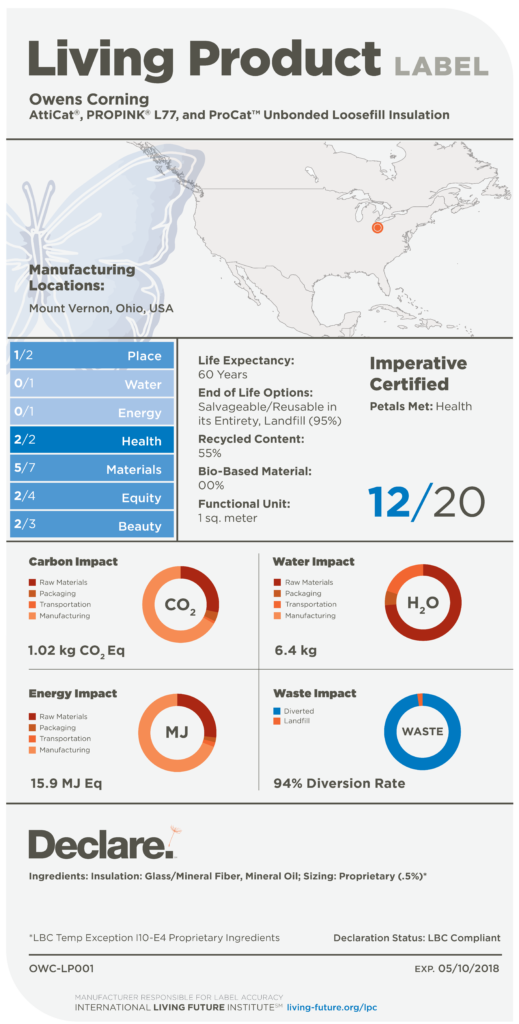 Owens Corning AttiCat®, ProCat ™,ProPINK® L77 Unbonded Loosefill Insulation
Imperative Certified
Living Product Challenge 1.0 Pilot
Place
I-01 Responsible Place and Habitat Impacts
Owens Corning's Mount Vernon facility sits on 74 deeded acres in Knox County, Ohio. The manufacturing facility constitutes almost 17 acres, with the remaining land left as tillable soil or wooded area. Much of the surrounding area is farmland.
In 2006, the facility was transformed to implement new environmental control measures throughout the manufacturing process. The site is quite well integrated with its surroundings and due to the nature of the manufacturing process and products the Ohio EPA permits the facility as a small quantity generator of air emissions. Any product that is off-specification that is a result of processing is recycled back into the manufacturing process through an efficient distribution of vacuum hoses through the plant floor.
The Mount Vernon workforce is well integrated with nature and the surrounding environment. They often spot deer and other wildlife on the premises or as they take an afternoon break in the outdoor picnic area. There are no areas of ecological sensitivity or historical significance within 50 miles of the Mount Vernon facility.
The product ingredients are mostly inorganic and not derived from endangered species.
Other Information
Owens Corning is committed to preserving the natural habitats that surround our operations around the world. An annual biodiversity assessment is completed by each plant; we are in the process of developing and supporting company-wide biodiversity goals.
In 2015, Owens Corning began a partnership with the Wildlife Habitat Council (WHC) to standardize our approach to biodiversity throughout the company, develop biodiversity action plans using external expertise and site visits, and work towards third-party WHC certification.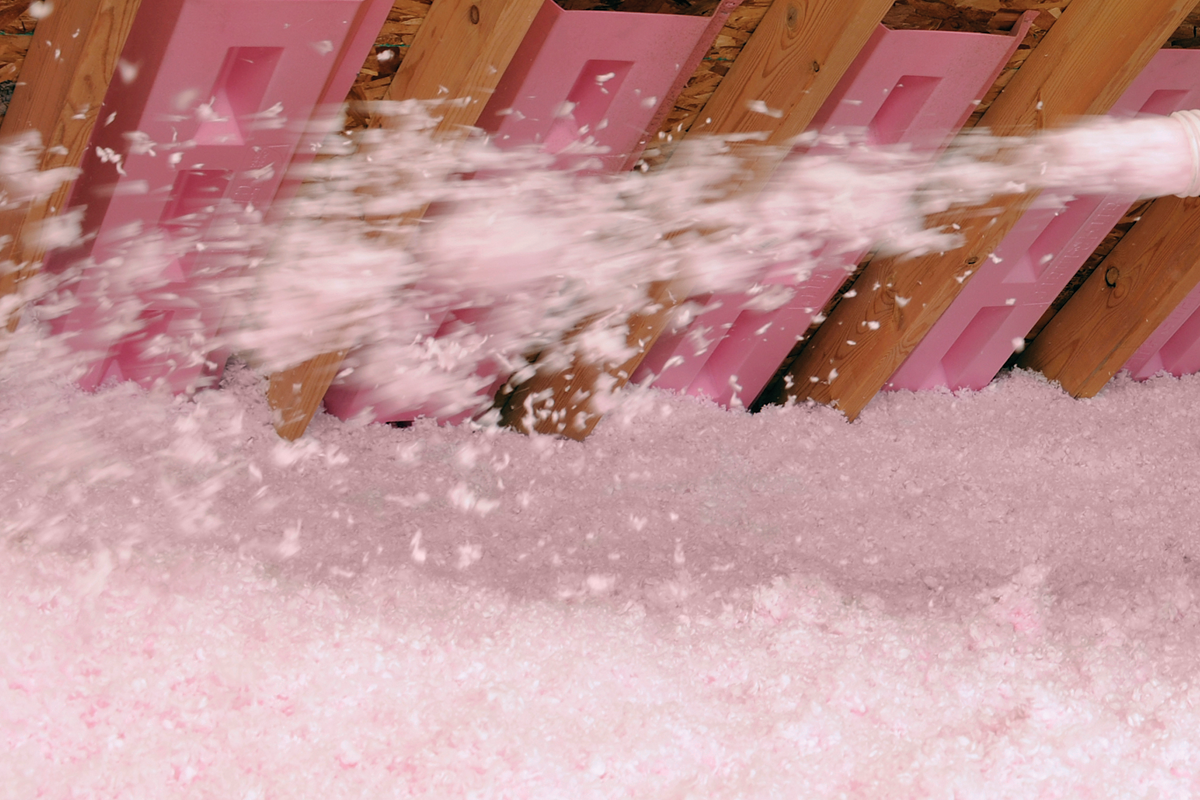 Health + Happiness  
Owens Corning is committed to the principles of environmental sustainability, product stewardship and to the safety and wellbeing of our employees.
For a continuing commitment to these principles, Owens Corning is dedicated to:
Safety and Health:
Providing safe working conditions.
Promoting the health and well-being of our employees.
Environmental Protection and Sustainability:
Conserving resources, preventing waste, reducing greenhouse gases, and protecting the environment and our local communities.
Continual improvement in our Environmental, Health and Safety (EHS) performance and pollution-prevention efforts.
Product Stewardship:
Providing products that are safe and environmentally sound to make, use, and dispose of; and that perform as claimed.
Providing useful information on the performance and safe use of our products.
https://sustainability.owenscorning.com/approach/environmental-health-safety-and-product-stewardship-policy/
Since 2008, Owens Corning has offered different resources and incentives to motivate employees to reach their health goals. The company has various wellness programs for employees to participate in, and we will expand our efforts with the development of six wellness pillars and corresponding teams to manage them:
Know Your Numbers
Healthy Mind
Physical Activity
Nutrition
Tobacco-Free
Financial Health
As a part of our wellness programs, Owens Corning encourages outdoor activities and creates spaces at our locations for employee interaction and exercise. Owens Corning is committed to preserving the natural habitats that surround our operations.
I-05 Net Positive Material Health
Owens Corning is committed to meeting the net positive material health imperative by maintaining a strict standard of safety and a responsibility to its workforce that they return home to their families in the same condition as when they arrived at the start of the workday. The company believes that its commitment to safety is unconditional and that all accidents are preventable. As a result of the pervasive safety culture, Owens Corning has had zero recorded fatalities for contractors and employees in over a decade. Furthermore, there have been no recordable injuries at the Mount Vernon facility in the last 12 months.
The manufacturing of unbonded loosefill has been purposefully designed to incorporate significant automated features to reduce the opportunity for injury and human error. The facility is state of the art; most of the process is enclosed and the product emerges as a compressed block that is appropriately sized for integration with the fiberglass blowing machines.
This product was assessed for material health through the Cradle to Cradle institute and was certified at the Platinum level which is the highest ranking in the program. http://www.c2ccertified.org/products/mhcertificate/owens_corning_insulation_products
The product is fully optimized, meaning that ingredients and process chemicals are optimal or acceptable for use. This assessment covered 100 percent of the materials at 100ppm and was issued March 2016.
I-06 Human Thriving
Owens Corning is concerned for nature and environmental impact and has achieved continuous reduction of manufacturing impact starting with a 2002 baseline. Aspects include waste, air emissions, water use, energy, and greenhouse gases. The unbonded loosefill product manufacturing process is virtually waste-free as scrap material is easily reintroduced back into the process. The Mount Vernon plant, which manufactures this product, uses state-of-the-art automated equipment throughout, enabling the minimization of human interactions with the process. The reduced number of touch points help to create an environment for safety and minimize repetitive tasks.
We encourage increased interaction with nature in our employee's work and personal life. The company has instituted wellness programs and healthy living incentives to promote healthy lifestyle choices for employees. Employees are encouraged to maintain a healthy body weight with programs such as the annual Fat Out competition. Each year, the company coordinates pedometers and scheduled weigh-ins to track employee progress on their fitness goals. Participation in the program has been as high as 30 percent in recent years. Finally, the company's wellness program has been a vehicle for motivation.

Materials
Owens Corning uses third-party organizations to test and certify product attributes and to disclose environmental and human health impacts. These certifications ensure that products meet a certain standard of recycled content, are low emitting after installation and other features that may be of interest to architects, builders, installers and consumers. Our product stewardship process provides products that are safe and environmentally sound to make, use, and dispose of; and that perform as claimed.
Furthermore, Owens Corning's approach to achieving the Materials Petal Imperatives is highlighted by showcasing the company's initiatives to cultivate a responsible materials economy. Owens Corning's unbonded loosefill products are largely created from abundant materials such as sand. Raw materials like sand and high levels of recycled glass content combine to minimize adverse impacts from a material resource perspective.
The commitment to using responsible materials is important to Owens Corning. This product was assessed for material health through the Cradle to Cradle Products Innovation Institute and was certified at the Platinum level, the highest level possible.
The product development team's insight is in direct alignment with the Materials Petal Imperatives through the use of human centered design. The product design and manufacturing result in a product that can be used in a variety of applications that meets the insulating needs of attics, walls and other locations. Abnormal geometries are not a problem as the product flows to fill cavity spaces. The intelligent design reduces waste, prevents scrap generation on-site and allows any remaining materials to be used for the next project.
Overall, unbonded loosefill products have socially equitable automated manufacturing and appropriately manage resource depletion through the high level of recycled content. The market-leading product is also a leader in terms of the equitable use of natural resources, materials usage, product design and innovative industrial practices.
I-07 Red List
Owens Corning uses third-party organizations to test and certify product attributes and to disclose environmental and human health impacts. There are several transparency paths used for Owens Corning products and many of them are market driven. As consumer demand for product transparency has increased, the company has implemented transparency initiatives to meet the demand. Owens Corning is on the leading edge and readily makes the commitment to expand its transparency offerings where they have value in the marketplace. Unbonded loosefill products are/have:
Certified GREENGUARD Gold;
UL Environment™ Sustainable Product Certification;
Recycled content verified by SCS Global Services;
Achieved the Platinum level of the Material Health Certification from the Cradle to Cradle Products Innovation Institute; and
Approved for the National Green Building Standard and are qualified under the Seal and Insulate with ENERGY STAR® program.
An Environmental Product Declaration has been verified and issued by UL Environment. As a part of pursuing the Living Product Challenge, we have obtained DECLARE labels for unbonded loosefill. https://w.owenscorning.com/ocbuildingspec/sustainBuildScience.html
I-09 Responsible Industry
Owens Corning's unbonded loosefill insulation products (AttiCat®, ProCat™, PROPINK® L77) use materials that are in abundant supply and leverage high levels of recycled content. Sand is a major raw material in glass manufacturing and Owens Corning is committed to seek out sources in reasonable proximity to its operations. Purchasing recycled glass prevents material from being sent to landfill while serving as an outlet for glass that is no longer in service. Unbonded loosefill products use a negligible amount of organic inputs and therefore are exempt from the USDA organic certification requirement.
The company is also committed to fair labor practices and is a signatory to the UN Global Compact. The Mount Vernon facility is staffed by workers that are local to the Knox County, Ohio, community and wages are equitable for the area. We have a Human Rights policy and comply with reporting on Conflict Minerals. Materials used for this product are not derived from vulnerable or endangered sources. A Declare Label has been issued for unbonded loosefill in 2015.
I-11 Net Positive Waste
The Mount Vernon plant has a virtually waste-free process for the unbonded loosefill (AttiCat®, ProCat™, PROPINK®L77) insulation product line. The company uses recycled content in the form of purchased cullet in the manufacture of fiberglass products and works to reduce waste from the line by recycling scrap material back in to the process, where feasible.
The facility has been outfitted with portable vacuum nozzles that operators use to clean scrap insulation nodules from the floor and other places where the tufts tend to accumulate. The vacuum system directly sends the nodules back into the process line so they may be incorporated in new product. In addition, plastics, cardboard, metal and other materials are separated and recycled.
Mount Vernon is a company leader in waste diversion efforts and the staff is engaged to reduce and maintain the virtually waste-free process.
I-12 Product Fit to Use
Owens Corning building insulation products are designed to help save energy through the life of the building, assumed to be approximately 60 years. The products undergo rigorous internal and competitive audits to ensure that we are providing the best product to our customers. Design teams travel throughout the year visiting facilities to quantify the quality of our product and its fitness. Products are evaluated based on critical product performance characteristics, insulating R-value, installation ease and other characteristics.
Product stewardship reviews are required for all new and modified products. These rigorous reviews assure that products are safe to make, use, and dispose of; and that perform as claimed. Information on the performance and safe use of our products is also part of the review process. (link to any shareable data) https://sustainability.owenscorning.com/approach/environmental-health-safety-and-product-stewardship-policy/
Testing product fitness for use is also important from a research and development standpoint. Products are tested throughout the development process to identify any potential defects early in product design. The test-and-learn strategy is used to allow innovative ideas to emerge with little downside risk. The pervasive testing culture encourages innovation from the lab bench that is manifested on the production line.

Equity
I-14 Equitable Product Access
Owens Corning's materials are broadly available to the market through a variety of channels, both direct and through other distribution channels, lumber yards and also home centers across the United States.
Owens Corning prices its products in a fair and lawful manner and we believe the prices for our products are in line with prevailing market prices in the regions where such products are sold.
I-15 Responsible Co-Products
Owens Corning and its three subsidiary businesses of Insulation, Roofing and Composites do not directly engage in any of the following activities:
Make weapons or armaments of any kind;
Produce tobacco products, pornography, violent video games, or illicit drugs;
Engage in fossil fuel extraction;
Engage in nuclear energy production or nuclear weapons manufacturing;
Engage in or facilitate prostitution, payday lending, gambling or the patenting of life; or
Charge interest rates significant in excess of market peers for comparable offerings.
Owens Corning demonstrates consistent responsibility across its entire operations footprint.