When the 10th annual Living Future unConference came to a close just last week, architects, engineers, city planners, and visionaries from around the world left Seattle with the energy and ideas necessary to transform the built environment.
The conference opened on Wednesday, May 11th, and was filled with a series of workshops and summits surrounding this year's theme of Truth + Transparency.
As some attendees discussed how to achieve net positive water in building design, others took tours of Living Buildings in the area. The Bullitt Center, as the world's first six-story class A Living Building, was high on many's priority list, while Heron Hall–home to ILFI founder and Chair of the Board Jason F. McLennan–served as another popular tour spot. In the afternoon, attendees met to discuss biophilic design, the water cycle of buildings and more.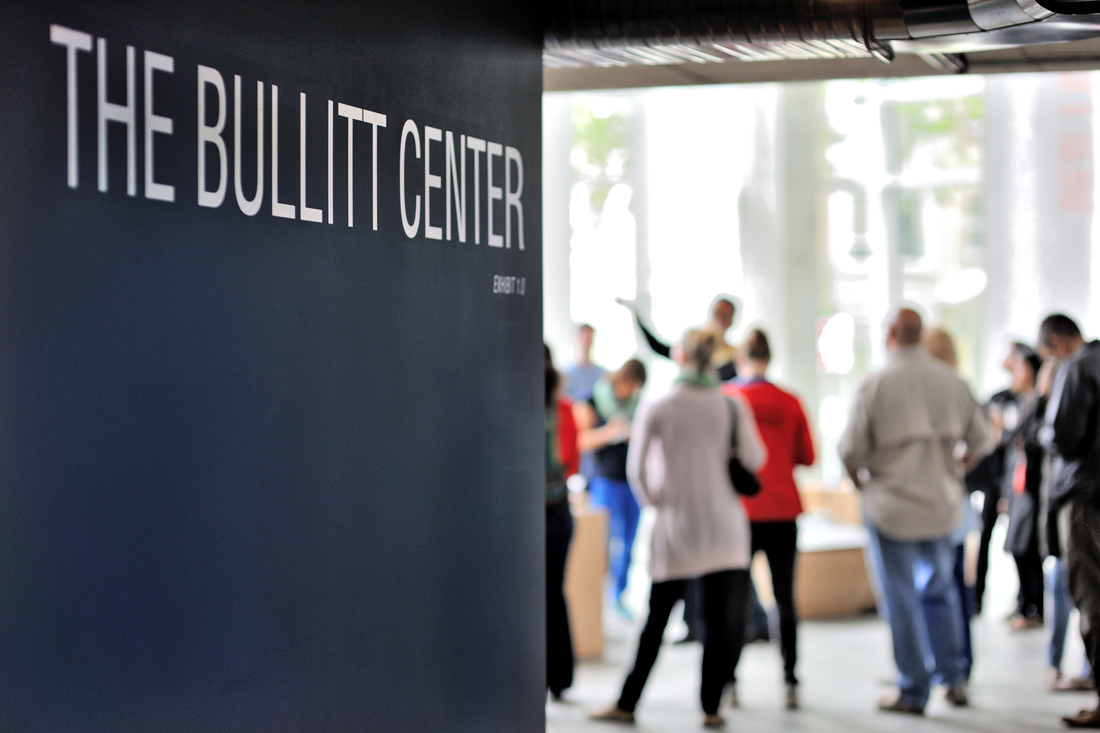 At the opening-night keynote on Wednesday, Steve Curwood, host of critically-acclaimed radio show Living on Earth, spoke about solutions needed to heal the earth. He left the audience with a new sense of how to reconcile humanity's relationship with the environment and encouraged listeners to reach across partisan lines to engage in political dialogue.
Thursday kicked off with a video showcasing the future leaders of the environmental movement and asked attendees what will they promise to do to ensure that all children will inherit a living future.
Then, morning keynotes by ILFI CEOs past and present: Jason F. McLennan and Amanda Sturgeon took the stage to talk about how the Living Building community began, where we've gone, and the hurdles we have yet to cross.
Amanda took the audience on a journey through her life, from her grandfather's greenhouse in the U.K. to the rugged outdoors of Australia, ultimately revealing what impassions her to pursue biophilic design. It is under Amanda's direction that ILFI continues to create communities for everyone.
The Equity Drafting Table, held in partnership with King County, engaged passersby in equity in their own communities. Participants tallied whether or not they feel a sense of community where they live, chatted with others about their experiences of injustice, and brought solutions to the table. The focus of the installation is to draw attention to the need to also create social sustainability and remove racial, class-based and sex-based disparities.
Thursday night, keynote Juan Martinez, today a National Geographic young explorer, spoke about growing up in a low-income Latino/a community in south-central Los Angeles. Witnessing street fires and gun battles as a young child informed his vision of justice, and he became involved in the Sierra Club's first environmental justice academy. Juan also brought two mentees onstage to share their own journeys and life experiences.
That night, the Institute also announced its 2016 Hero Awards. Selected individuals have nurtured the Living Building Challenge as a movement – locally, regionally, nationally and internationally, and have led by example. The 2016 Heroes range from experts in regenerative design to pioneers in municipal leadership. They are the stalwarts in the regenerative design movement and are paving the way for future generations.
This year's Heroes are:
Kevin Hydes, President and CEO, Integral Group
Ted van der Linden, Board of Directors, International Living Future Institute
Mary Tod Winchester, Vice President of Administration & Operations, Chesapeake Bay Foundation
Greg Mella, Vice President and Co-Director of Sustainable Design, SmithGroupJJR
Patti Southard, Program Manager, King County Green Tools
Peter Doo, President, Doo Consulting, LLC
Lorraine Doo, Principal, Doo Consulting, LLC
Hervé Moal, Director of Development and Innovation, Astrance
We also announced three (3) newly certified Living Buildings, bringing the total number of buildings achieving the world's most rigorous green buildings program to 11. Additionally, nine (9) new projects have been certified Net Zero Energy Buildings (NZEB). Today's certification brings the total certified projects in the Living Building Challenge (LBC) to 44 worldwide, with an additional 331 projects in the pipeline. Learn more about the newly-certified projects here. 
Living Buildings:
The Chesapeake Bay Brock Environmental Center (Virginia Beach, VA)

Old Oak Dojo (Boston, MA)

Dixon Water Foundation, Betty and Clint Josey Pavilion (Leo, TX)
Net Zero Energy Buildings (NZEBs):
zHome Phase II (Issaquah, WA)

DPR San Francisco (San Francisco, CA)

DPR San Diego (San Diego, CA)

Sustainable Dreams (Edmonds, WA)

PNC Bank Davies and Andrew Branch (Fort Lauderdale, FL)

Chrisney Branch Library – Lincoln Heritage Public Library (Chrisney, IN)

2938 Madrona (Bellingham, WA)

Ballard NZE House (Seattle, WA)

Journey to Net Zero (Seattle, WA)
Petal projects:
NRDC Midwest Office Expansion (Chicago, IL)

UniverCity Childcare (Vancouver, Canada)

VanDusen Botanical Gardens i(Vancouver, Canada)

Mohawk Design Studio (Dalton, Georgia)
To top everything off, the Living Product Challenge announced its first two certified projects from Owens Corning and Sirewall. ASSA ABLOY was awarded the Manufacturers Visionary award for leadership in the product transparency movement. The evening culminated with Denis Hayes receiving the Award of Excellence for his service on ILFI's Board of Directors and commitment to the environmental movement. 
Friday came quickly, with Ed Mazria of 2030 Architecture expounding upon his vision of a radical building standard: to have all new buildings carbon-neutral by 2030. From detailing his presentations before the United Nations to his comprehensive work steering buildings toward a low-impact model, Ed enthused attendees by providing data and concrete statistics that prove a carbon-neutral urban environment is not only possible but probable.
One of the highlights of the conference occurred on the last day with an educational session entitled "Designing Equity in Our Communities Through Cultural Understanding." In it, social justice leaders confronted issues such as affordable housing, access to nutritious food, public safety, community-based health care models, and equitable transportation systems in TEDx-style presentations. Then, attendees examined the lifecycle of projects and incorporated concepts of inclusivity and justice into the design process.
The world's leading companies filled the halls with the Living Future trade show, where they displayed their healthy products and innovative services.
This week, as the movers and shakers of Living Future 2016 return to their offices, job sites, and homes, they do so with a renewed commitment to build regenerative communities. Together, we are shaping a world that responds to climate change in its very form–that heals the world through the built environment.
Check out our photos of yourselves and fellow attendees here!