International Living Future Institute + GreenCircle Certified Partner to Boost Product Transparency
Mannington Mills rEvolve® Product Receives First Declare Label To Be Third Party Verified by GreenCircle Certified
Consumers and specifiers alike are increasingly looking for transparency in products, whether it is to verify point of origin, to understand environmental impacts, or because they want to eliminate exposure to toxic ingredients. That's why the International Living Future Institute created Declare, a 'nutrition-label' for products that provides a clear, elegant, and informative method to disclose a product's ingredients. Originally envisioned as a voluntary program to accelerate transparency in the market as quickly as possible, Declare now provides product manufacturers the option for an additional level of confidence — third party validation from trusted 3rd party verifiers. The first product to achieve a third party verified Declare label (Declare 3PV) is Mannington Mills, verified by GreenCircle Certified, for its modular carpet product, rEvolve®.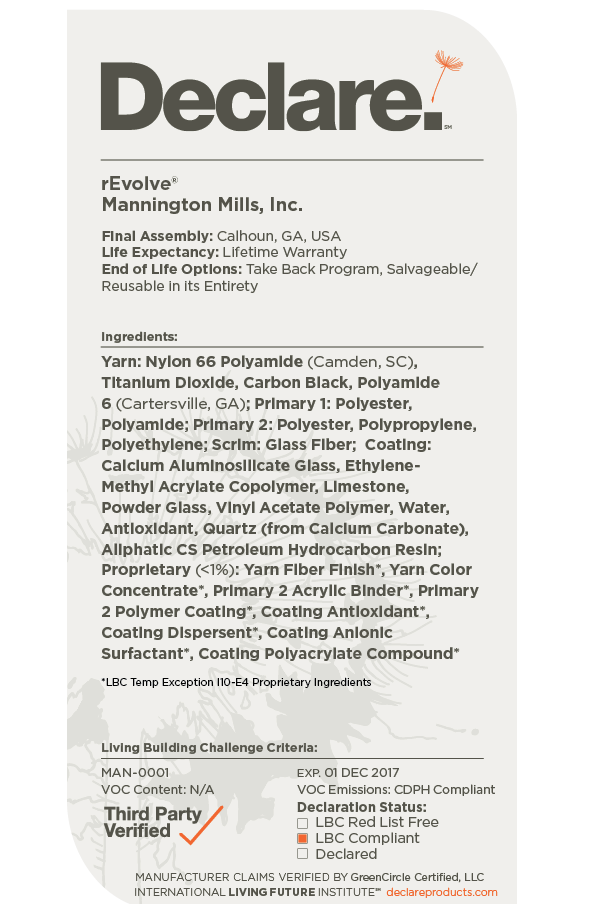 "Declare is designed to transform the building materials marketplace through transparency and open communication," said James Connelly, director of the Living Product Challenge for the Institute. "The Declare product database now has over 800 products listed, simplifying the materials specification and certification process so that designers can quickly and easily identify products that meet the stringent requirements of the Living Building Challenge. We are changing the built environment one purchase and one label at a time, but taken together these efforts are leading to a transformation across the building industry to embrace transparency and toxic chemical avoidance."
"GreenCircle has always supported ILFI's mission, and is proud to be a third-party verifier for the Declare program." said Annie Bevan, Vice President of Certification Services for GreenCircle Certified. "Our third-party verification adds additional trust and transparency to the Declare process – we look forward to other manufacturers following in Mannington's footsteps and driving positive change in the building materials marketplace."
rEvolve® from Mannington Commercial is a modular carpet backing system that combines with nylon 6,6 or nylon 6 yarn to create a vinyl alternative product. rEvolve® is constructed out of non-vinyl thermoplastic polyolefin containing a minimum of 35% total recycled content by total product weight with a minimum of 10% post-consumer material. According to the company's Declare label, the product is Red List Free, CDPH compliant, and demonstrates 99% ingredient disclosure. All data reported on the label has been screened and verified by GreenCircle confirming the accuracy of Mannington's claims.
"Our company is committed to doing business in a way that respects the transparency our customers are seeking. Declare labels are being increasingly and actively sought," said Dave Kitts, Vice President – Environment for Mannington Mills. "In addition to energy and environmental impacts, Declare makes it easy for us to also share information about health and wellbeing. Third party validation underscores that our commitment is far-reaching."
About International Living Future Institute
The International Living Future Institute is an inspiring hub for visionary programs. Our mission is to lead and support the transformation toward communities that are socially just, culturally rich and ecologically restorative. Composed of leading green building experts and thought-leaders, the Institute is premised on the belief that providing a compelling vision for the future is a fundamental requirement for reconciling humanity's relationship with the natural world. The Institute runs the Living Building Challenge, Living Community Challenge, Living Product Challenge, Net Zero Energy Certification, the Cascadia Green Building Council, Ecotone Publishing, Declare, JUST and other leading-edge programs. A global network of more than 400 volunteers across nearly 30 countries drive the local adoption of restorative principles in their communities.
About GreenCircle Certified
GreenCircle is an internationally recognized third-party certification entity whose thorough evaluation process provides independent verification that sustainability claims related to an organization's products and operations are honest, valid, and verified. GreenCircle is ISO 17065 compliant, following industry requirements for bodies certifying products, processes, and services, and is recognized by both the United States Green Building Council (USGBC) and the International Living Future Institute as a valid third-party certification entity. GreenCircle's rigorous evaluation process provides trusted transparency that a manufacturer's product claims are authentic. In today's discerning market, third-party certification is a valuable asset in establishing brand integrity and developing consumer confidence.
The certifications offered by GreenCircle include: Carbon Footprint Reduction, Certified Environmental Facts (Multi-Attribute), Closed Loop Products, Life Cycle Assessment Optimized, Renewable Resource Content, Recyclable Material, Recycled Content, Renewable Energy Use, Sustainable Manufacturing Processes, Waste Diversion from Landfill and various Material Ingredient Reporting certifications like Declare.
About Mannington Mills
Mannington is a fourth generation, family-owned company with manufacturing facilities in seven communities across America. Known for creating high performance products for over 100 years, the past decade has seen our company rise to a leadership position in the styling and development of long-lasting, low-maintenance flooring systems, some of which incorporate reclaimed waste streams. Our energy leadership, including one of the largest solar arrays in the flooring industry, helped prompt the US Secretary of Energy to name us an original member of the Save Energy Now – Better Plants program, setting the standard for reducing energy usage by 2020. Since 2007, we have reduced water usage at our carpet operations by 30% company-wide. We also hold certifications for ISO-14001, NSF/ ANSI environmentally preferable products, CRI Green Label Plus, and FloorScore.