Introduction and conclusion written by Sunni Wissmer, ILFI's Volunteer Network Coordinator.
For many of us, working toward a more sustainable future is an act of love. Paulo Freire, the Brazilian educator and activist, once said "love is an act of courage". As I  work with our network of global volunteers, I have the privilege of witnessing many small acts of courage. However, sometimes I see something truly incredible and am left in awe of the human capacity for good. Amira Ayoub, Facilitator and Leader of the Cairo Collaborative, has been a champion of the Al-Tarfa community center, a registered Living Building Challenge project. As the first registered project in the region, it has brought a new visibility to the Living Building Challenge and allowed us to begin to form important partnerships with new friends in the Middle East and North Africa. Using traditional Egyptian building methods, the community center will be built in Al-Tarfa, an isolated community 30 minutes away from Saint Catherine, Sinai, Egypt. These photos share her story and the story of the Al-Tarfa community as they take on the Living Building Challenge.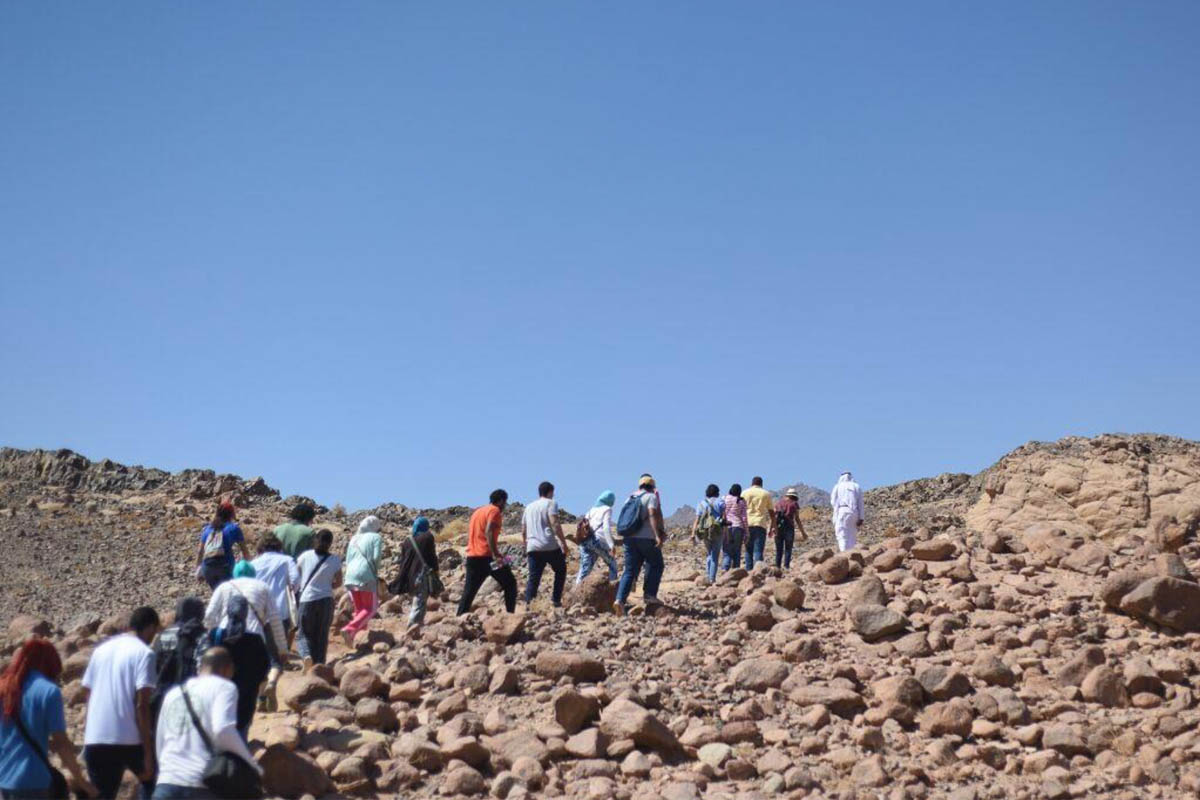 When We Forgot Our Meeting Tables and Chairs and We Felt the Ground.
We started our adventure with a team- building exercise and cross-cultural communication training lead by multicultural facilitator Jana Hola. The process allowed us to find common values with the Bedouin beneficiaries to guide the entire project.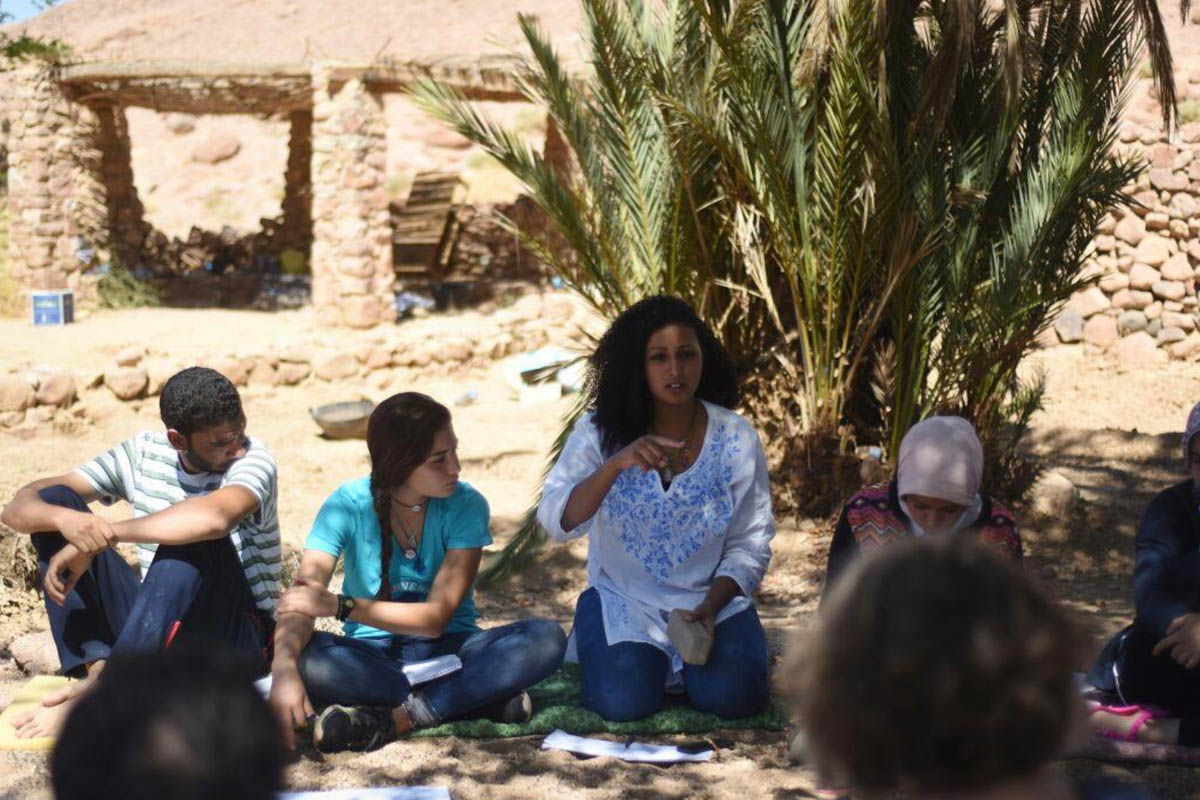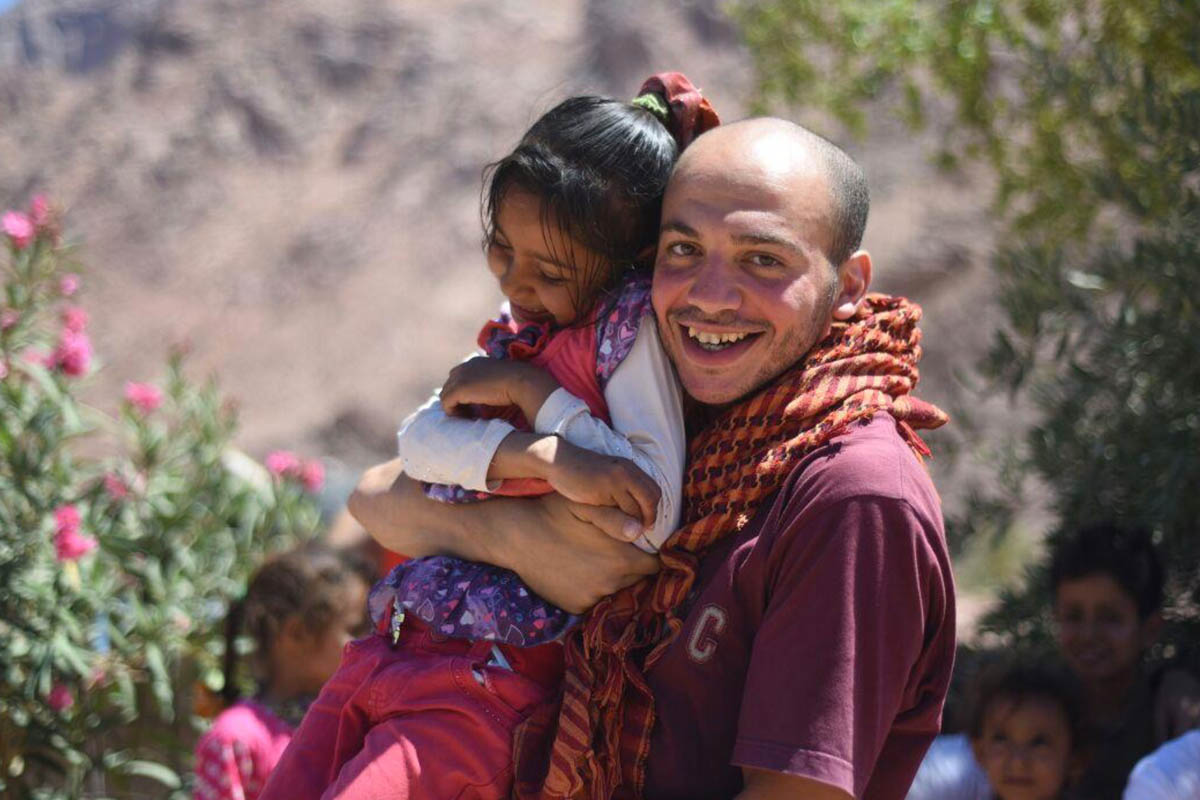 When we explored place-making with the Al-Tarfa community.
The residents of Al-Tarfa are Bedouins from the Jabaleya tribe, a minority often subject to discrimination. One of our first sessions, facilitated by Mohamed Amin, stressed human-centered design and helped the 19 participants how to adapt their work to include the community in all project stages.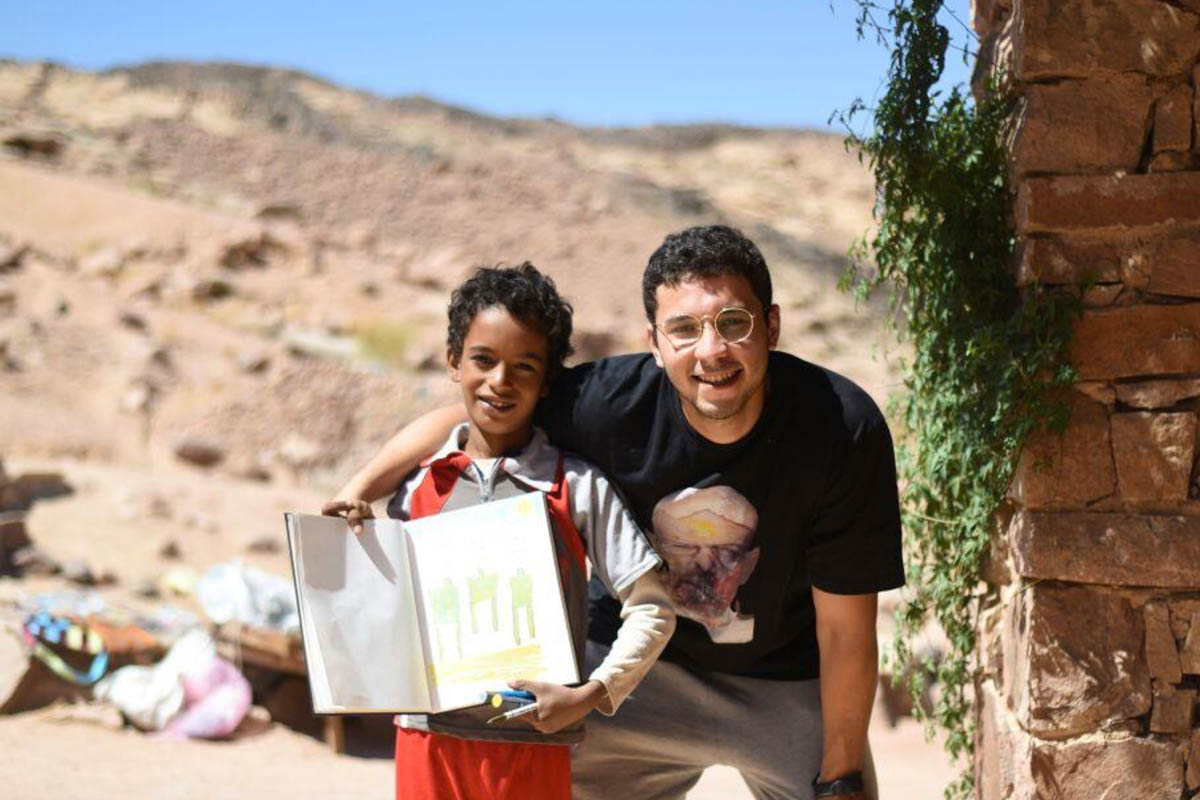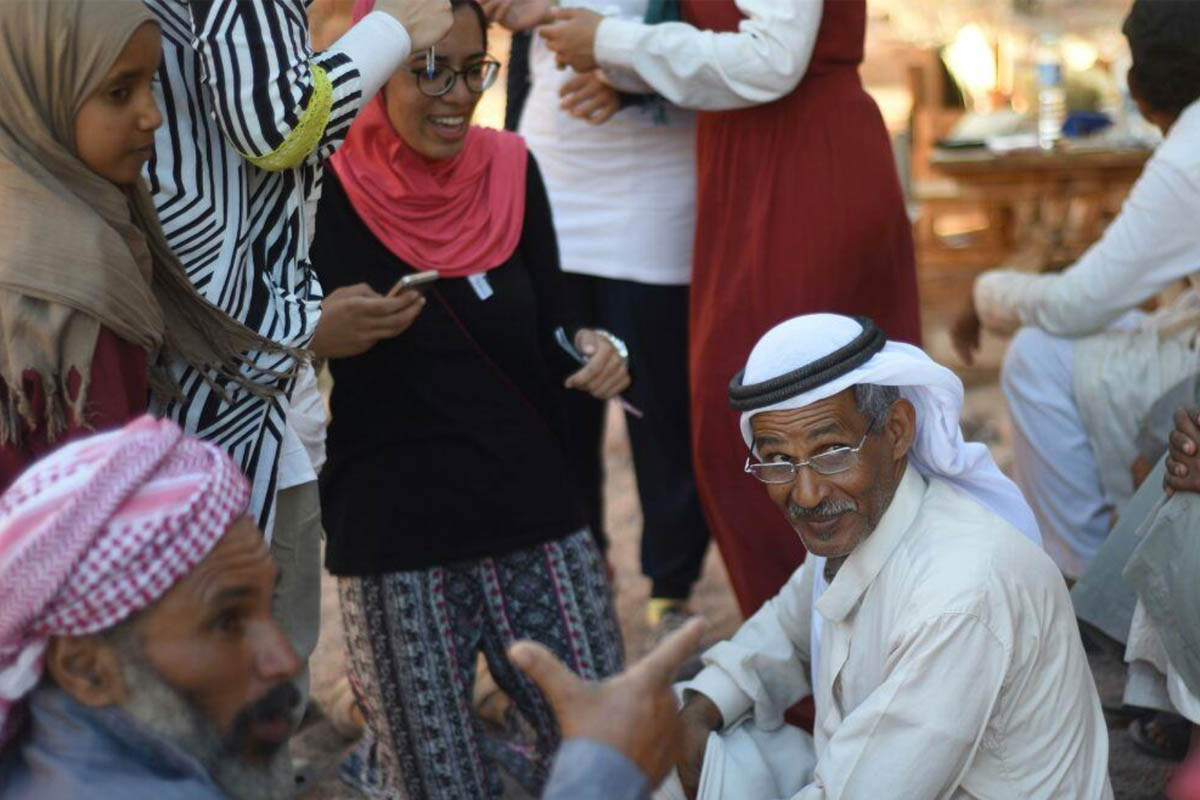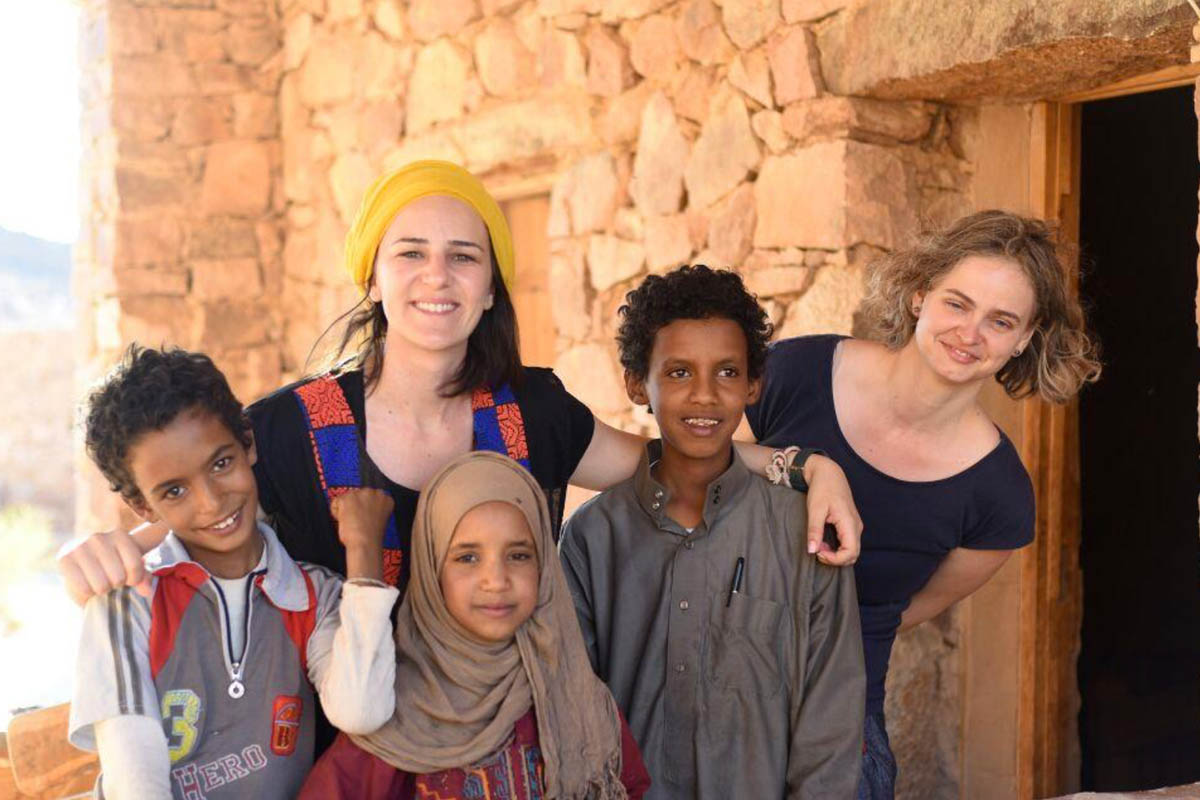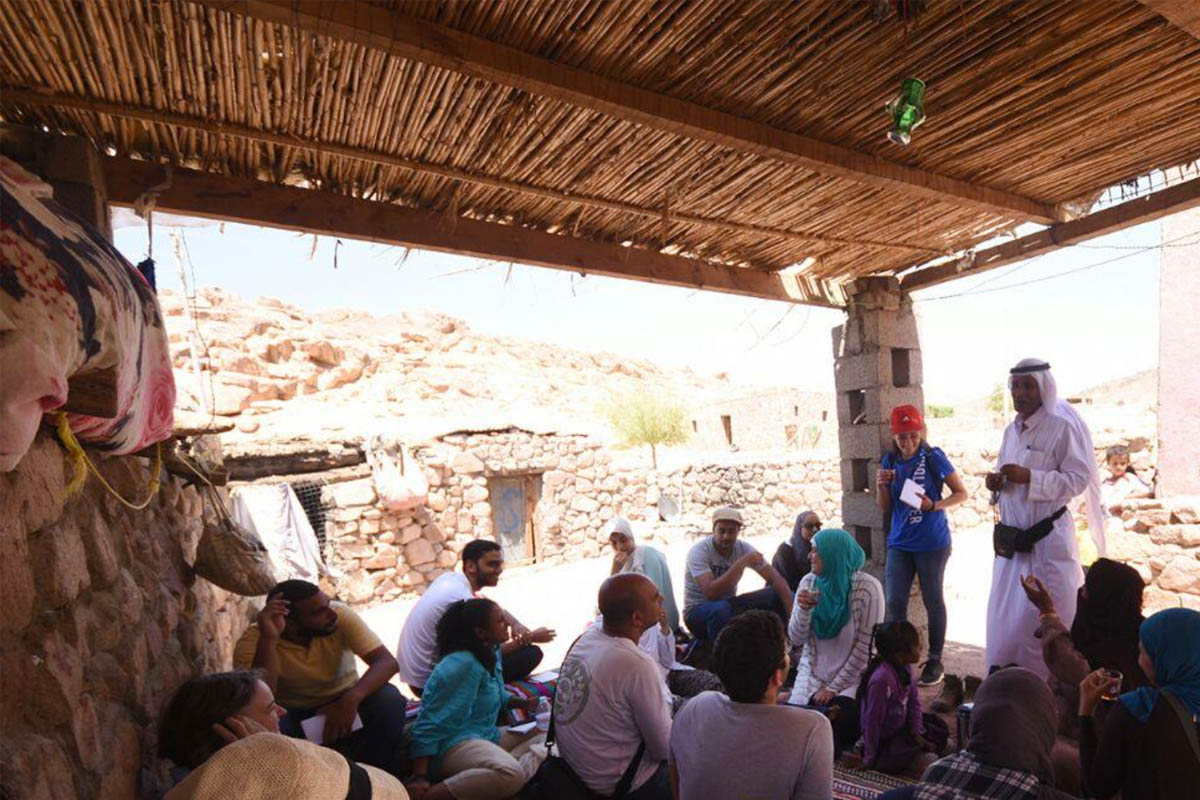 When we were enclosed by nature.
The residents of Al-Tarfa have been living harmoniously with their surroundings for thousands of years. There are strict requirements for utilizing natural materials in new construction. Our workshop lodge was built using rocks from the mountains. The roof was made us- ing stems of palm trees and fronds. Sheikh Jamil guided our team through a hike to explore the nature of place, and let us discover the local materials, medical plants and animals surrounding us.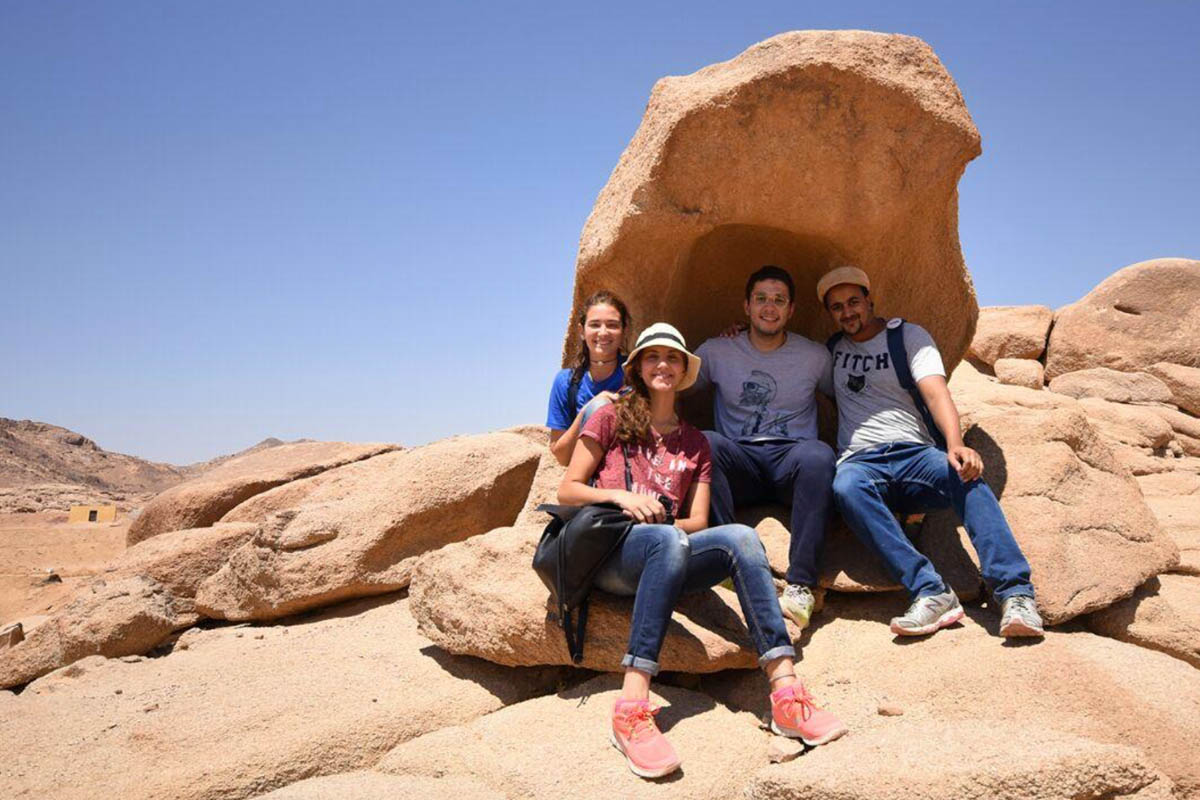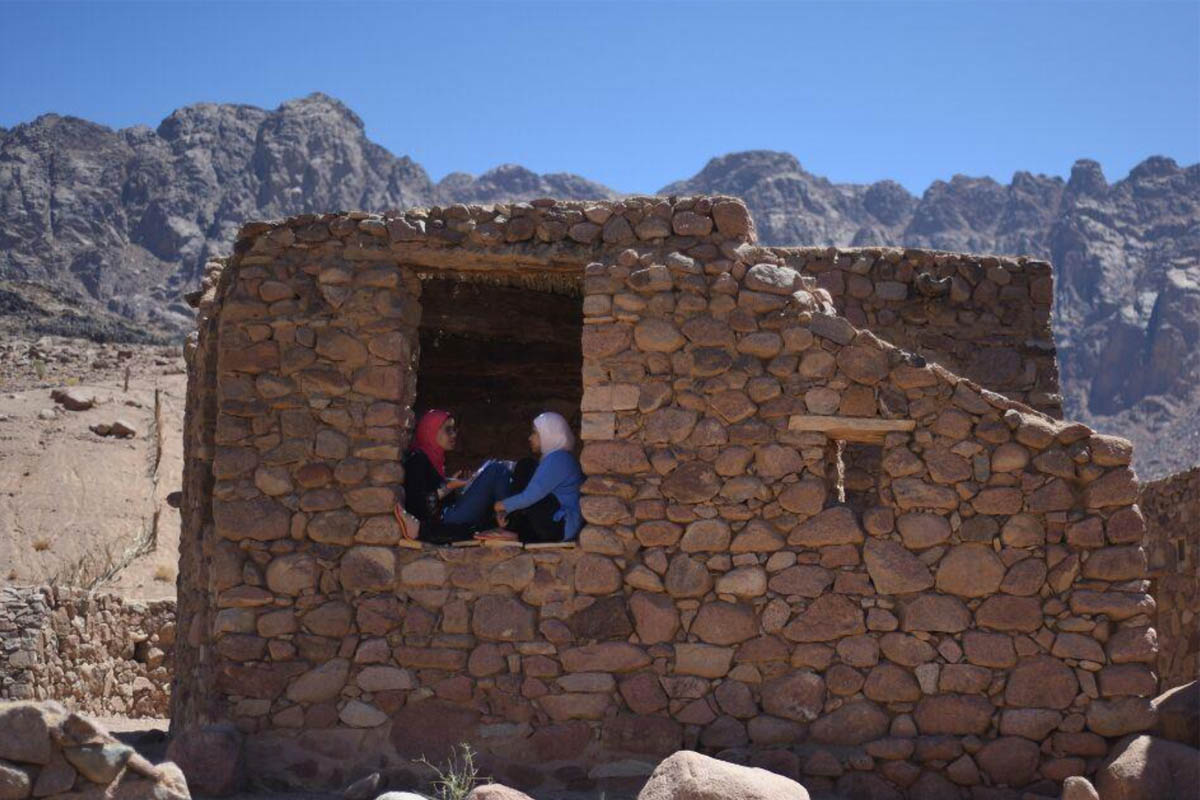 When we were learning how to build with earth.
We tackled the material aspects of our proposed structure with Mona Farouk, speaking at length about life cycle assessment, Cradle to Cradle and the Living Product Challenge. We gained a deep understanding of rammed earth and adobe technique from Ahmed Abel Gawad, an expert in earth construction. Workshop participants experienced the material properties of sand and mud and how they interact to form traditional Egyptian adobe bricks. Applying these building techniques, our team built a small park and seating area for the locals to demonstrate our appreciation and dedication to the community.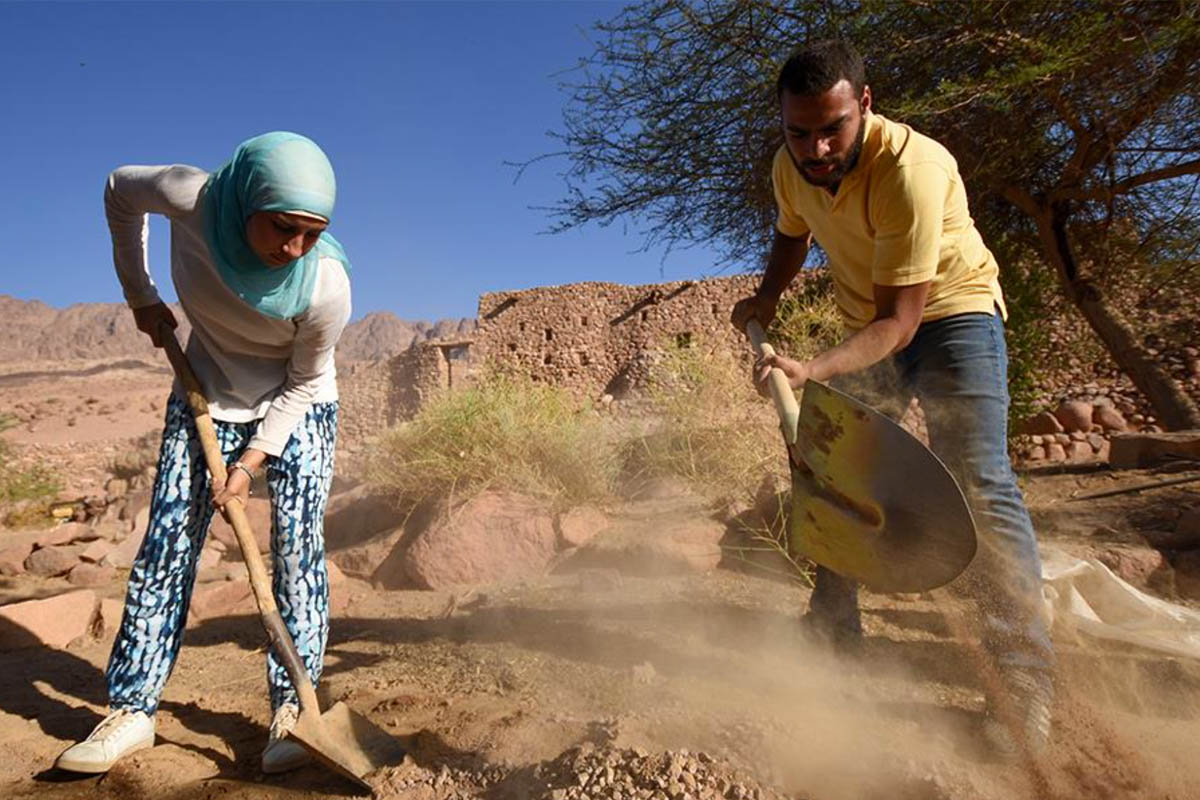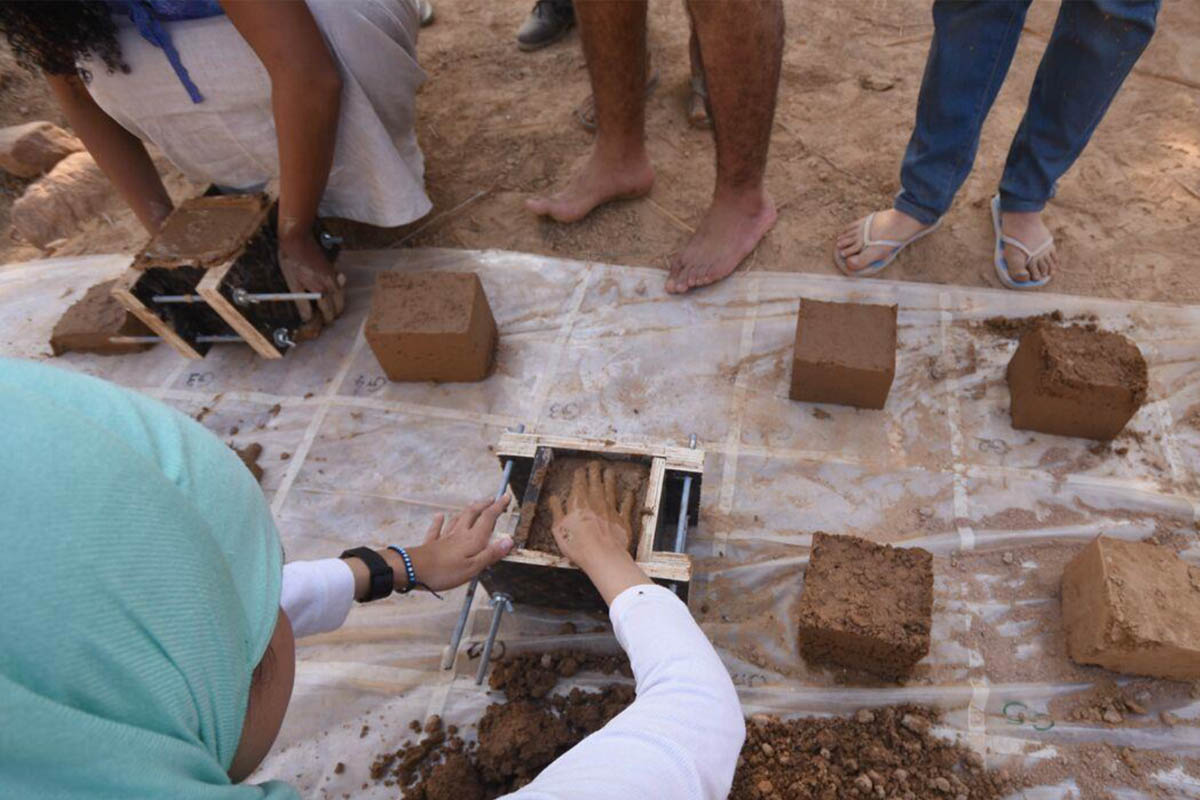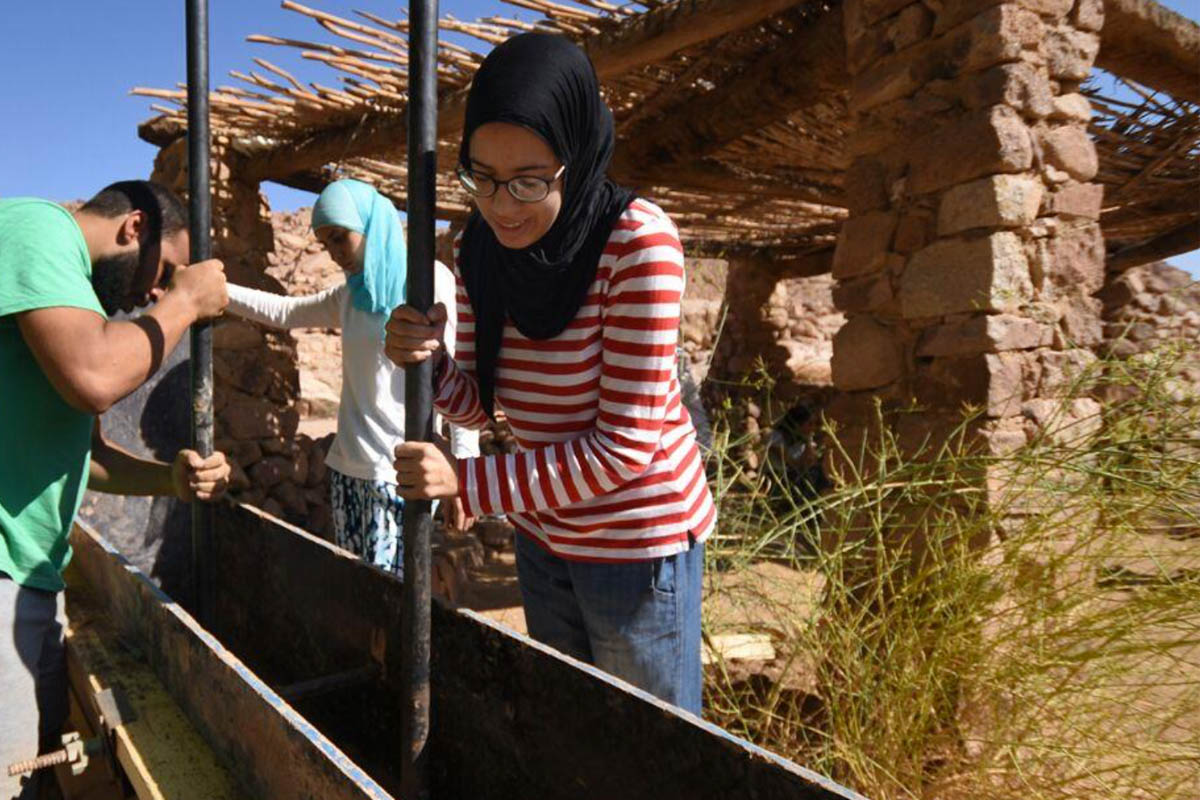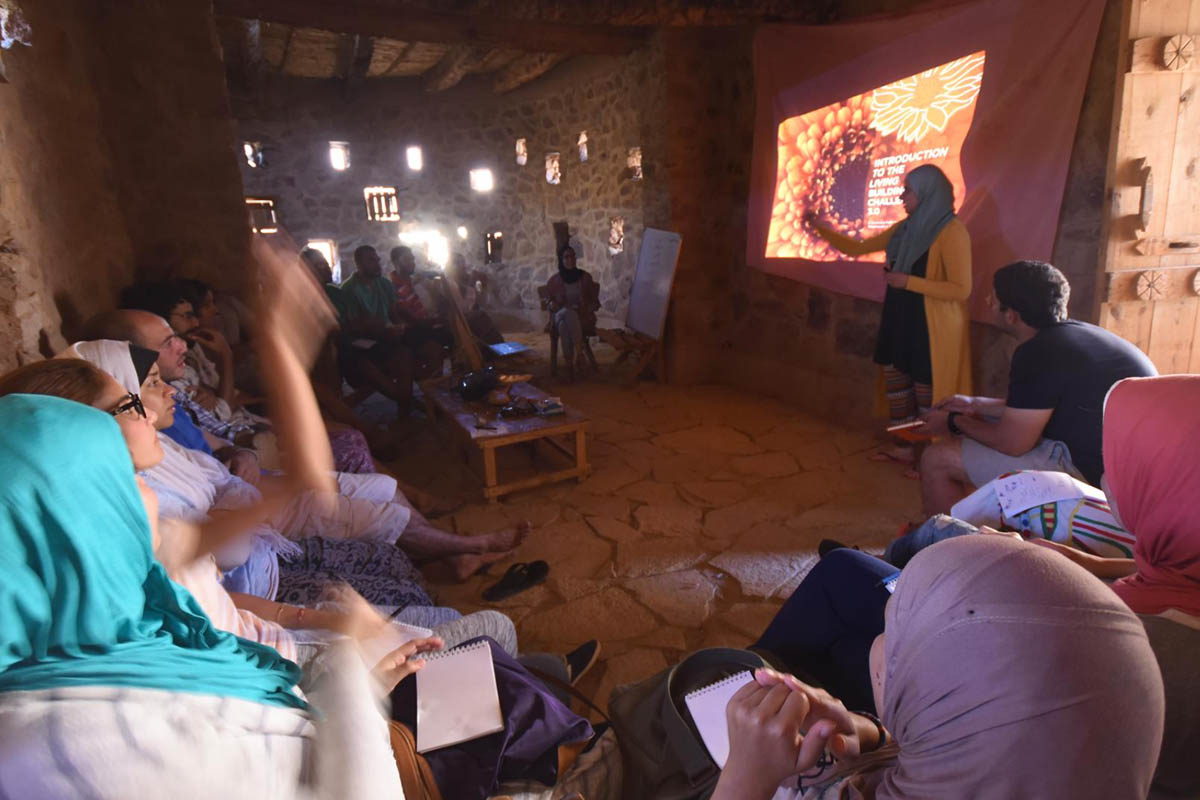 When we were dreaming to make our building a Living one.

Talking about biophilia while experiencing it was very inspiring. Usually, when I speak about climate change, people listen politely; but I'm not sure they understand the gravity of the situation and our role in protecting our planet. This time when I gave my talk, I saw tears in some of the participants' eyes. In the rich, vibrant desert of Egypt, where we were rooted in nature, we felt how precious our planet is. We cared enough to sympathize and feel responsible for its future.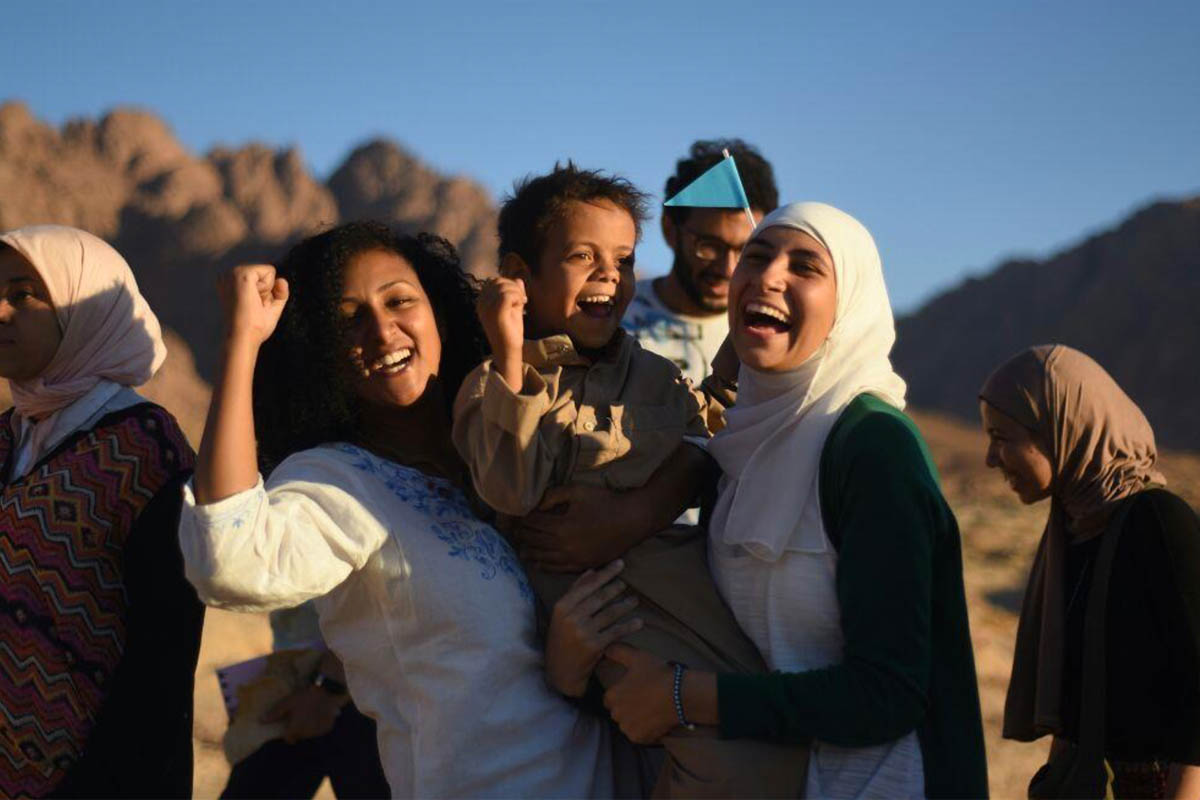 Testimony from Al-Tarfa Workshop Participants and Design Team:
At first, I didn't really think disconnecting from the city with its luxuries would be a good idea, however that all changed when I first set foot on the grounds of Al-Karm Eco lodge. The breeze of fresh air, atmosphere full of morning dew, seeing trees all around, all of those things filled me up with an instant sensation of freshness and I knew that I made the right decision. The nights were magical, the sky was lit with stars and was as clear as it gets. It was so fascinating that almost none of us slept in our rooms, we packed our sleeping bags every night and slept under the beautiful, dazzling sky. It felt that throughout this week we were trying to cling to nature as much as possible, I knew then how important us being connected with nature is, without even knowing about the term Biophilia yet. It gave me a huge understanding of how a biophilic design should be. -Yousef

If I can summarize the one week I spent in St. Catherine in one word, it would definitely be connection. I intensely connected with my teammates during this workshop, which is making the planning process incredibly easier. I connected with the local people who made it nearly impossible to think about anything except trying to make their lives better. I connected with our mentors, who were extremely generous while sharing all the information they have, opening my eyes to great ideas and concepts. We connected with the place and the magnificent environment from the second you wake up with mountains surrounding you and the last blink of the beautiful stars in the sky before you sleep. And finally, I connected with myself. I rediscovered my capabilities, and I raised the bar of my goals and dreams. It is incredible how one week could have that strong effect on you. -Ayah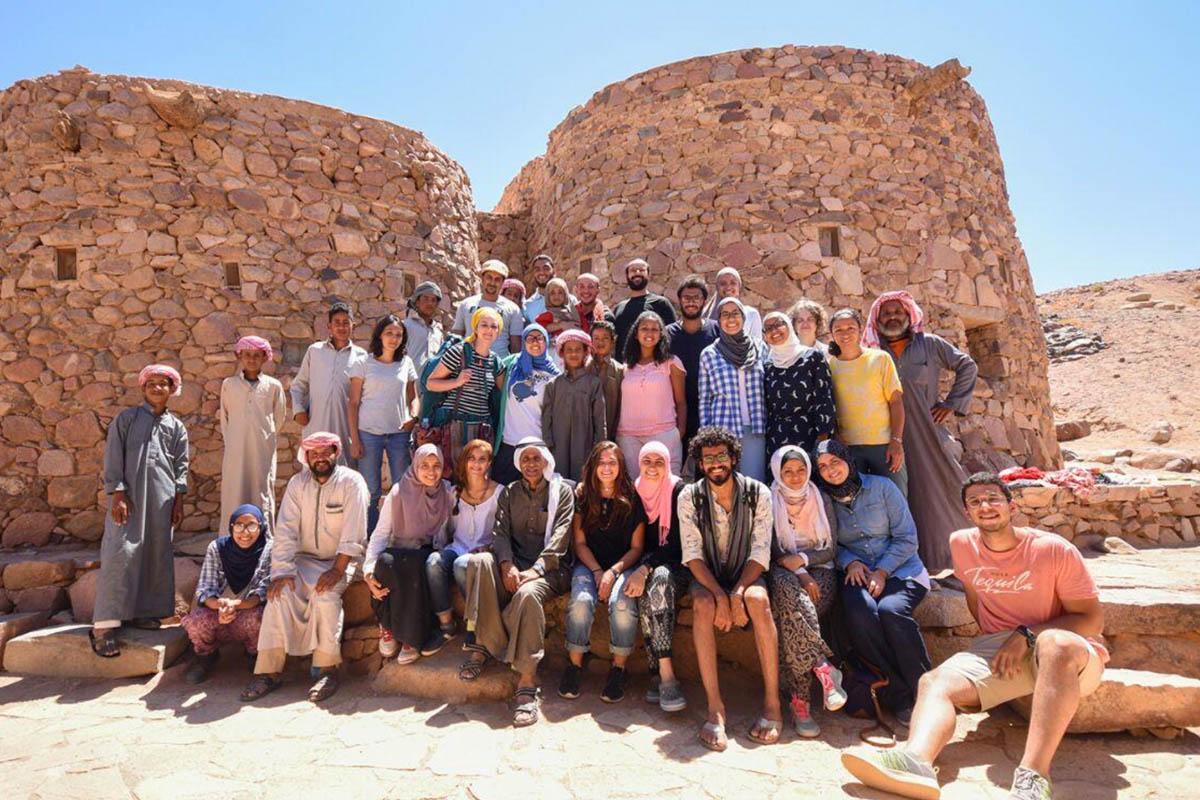 As the Al-Tarfa project has continued, Amira and her team have only strengthened their connection, working hand in hand with local organizations and community members alike. While so much of development today is determined by a select few, perhaps the most remarkable thing about this project is that thanks to Amira's team and their leadership, Al-Tarfa now has control of the development of their infrastructure. They are able guide this project forward to be something that truly meets their needs, both preserving ecological and human health through the materials themselves, and upholding their traditions and cultural richness.
This project is made possible through collaboration with the following:
Catherine Exists Initiative, a social art project founded by Rehab El-Dalil. Their main objective is to raise awareness of Saint Catherine's protectorate: an isolated, mountainous area in South Sinai, Egypt, and to empower its locals.
Hand Over, an Egyptian social enterprise that utilizes sustainable techniques of construction to provide resilient, affordable and sustainable building solutions for the sake of community development.
Amira Ayoub, and the International Living Future Institute's Cairo Collaborative.