The following is an excerpt from upcoming Creating Biophilic Buildings by Amanda Sturgeon, FAIA, CEO of the International Living Future Institute.
Introduction to the Case Studies
Upon investigating resources related to biophilic design, I discovered that only four case studies were currently available to the general public. Architects and designers, who are almost all overwhelmingly visual learners, must be able to draw inspiration from precedents. If we want practitioners to embrace biophilic design as both a design philosophy and as a process, we need case studies that illustrate how to achieve it practically and elegantly.
This contemporary collection of fourteen case studies draws from Living Building Challenge projects. Since 2011, the Living Building Challenge has required that all projects utilize Stephen Kellert's framework to achieve biophilic design—the only green building standard that includes biophilic design as a requirement. Consequently, the projects that are now built and operating as Living Buildings provide a significant resource for the advancement of biophilic design.
Additionally, Version 3.1 of the Living Building Challenge requires that projects hold a one-day biophilic design exploration and create a guiding framework for the project based on the criteria outlined on the following page. This requirement influenced some of the fourteen case studies as well.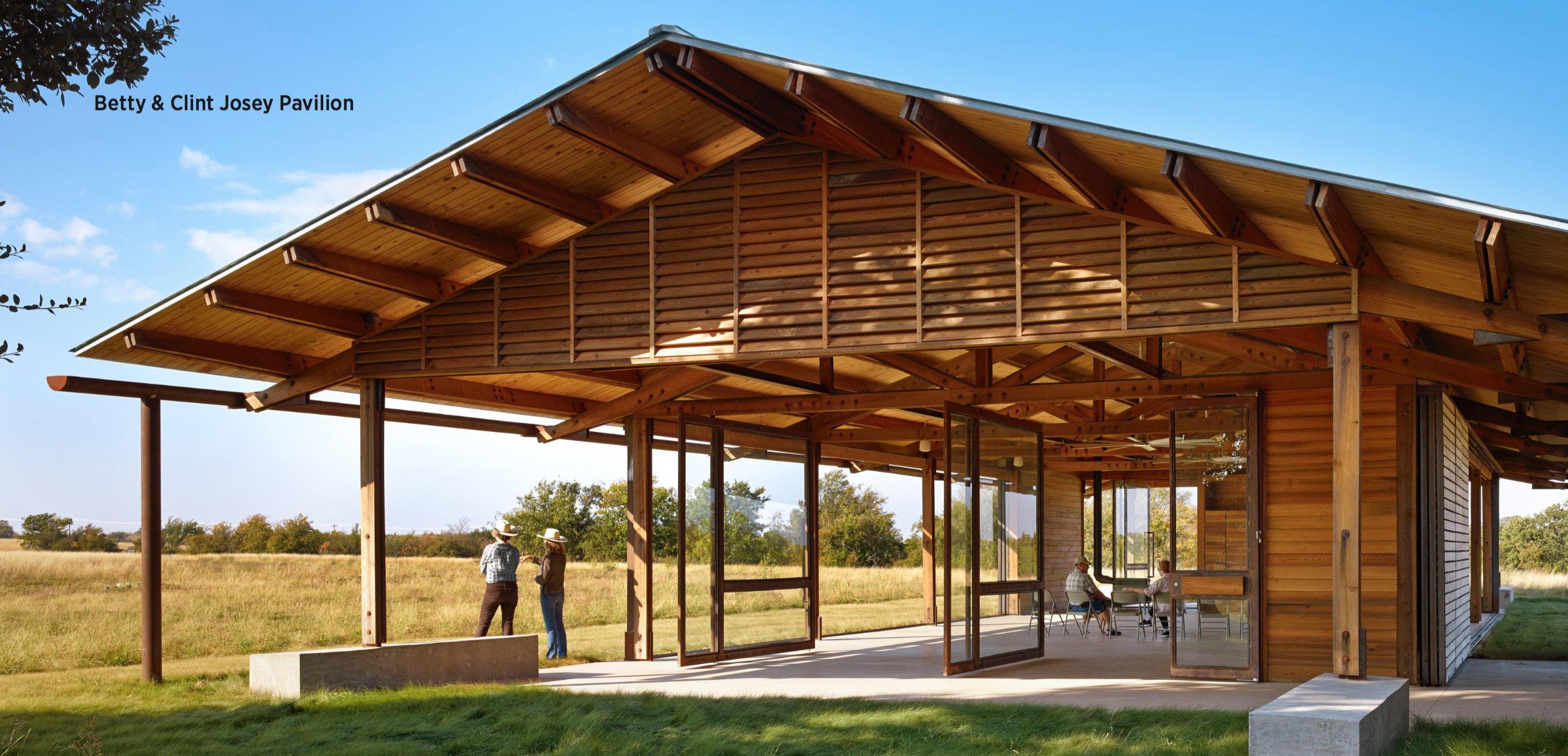 Some of the projects were also influenced by other approaches to biophilic design, such as Terrapin Bright Green's 14 Patterns of Biophilic Design, which coalesces Kellert's attributes into fourteen patterns organized within three groups. Although this framework and Terrapin's extensive resources are pivotal tools for advancing the practice of biophilic design, for the sake of consistency we have not specifically referenced them within these case studies.
The case studies do not focus on the other Living Building Challenge Imperatives; however, it is worth mentioning that most of these projects have achieved some to all of the requirements set forth in the Living Building Challenge standard: they are net zero or net positive for energy and/or water use; they are constructed with materials free of Red List items; they demonstrate the principles of equity; they are respectful of place; and they are beautiful.
Because the Living Building Challenge requires projects to reference and respond to the Biophilic Design Elements and Attributes list that Stephen R. Kellert published in the 2008 book Biophilic Design: The Theory and Practice of Bringing Buildings to Life1, I have organized the case studies according to that list.
Environmental Features

Color
Water
Air
Natural ventilation
Plants
Animals
Natural materials
Views and vistas
Façade greening
Geology and landscape
Habitats and ecosystems
Fire

Natural Shapes + Forms

Botanical motifs
Tree and columnar supports
Animal (mainly vertebrate) motifs
Shells and spirals
Egg, oval and tubular forms
Arches, vaults, domes
Shapes resisting straight lines and right angles
Simulation of natural features
Biomorphy
Geomorphology
Biomimicry

Natural Patterns + Processes

Sensory variability
Information richness
Age, change and the patina of time
Growth and efflorescence
Central focal point
Patterned wholes
Bounded spaces
Transitional spaces
Linked series and chains
Integration of parts to wholes
Complementary contrasts
Dynamic balance and tension
Fractals
Hierarchically organized ratios and scales

Light + Space

Natural light
Filtered and diffused light
Light and shadow
Reflected light
Light pools
Warm light
Light as shape and form
Spaciousness
Spatial variability
Space as shape and form
Spatial harmony
Inside-outside spaces

Place-Based Relationship

Geographic connection to place
Historic connection to place
Ecological connection to place
Cultural connection to place
Indigenous materials
Landscape orientation
Landscape features that define building form
Integration of culture and ecology
Spirit of place
Avoiding placelessness

Evolved Human-Nature Relationships

Prospect and refuge
Order and complexity
Curiousity and enticement
Change and metamorphosis
Security and protection
Mastery and control
Affection and attachment
Attraction and beauty
Exploration and discovery
Information and cognition
Fear and awe
Reverence and spirituality
In analyzing this group of projects against Kellert's elements and attributes, I have come to appreciate even more how comprehensive and thoughtful this list is. The attributes cover the range of biophilic expression, from the basic human need for natural light and fresh air to our more complex emotional yearning to connect with our cultures, our histories, and the natural environment.
The element of Light and Space includes a full exploration of the ways in which light and space interact to promote biophilic experiences. The element of Natural Shapes and Forms reveals why we find arches, domes, spirals, curves, and other naturalistic features so intriguing, and why these features so often find their way into our buildings. If you have not already, I encourage you to become intimately familiar with these elements and attributes and have no doubt you will come to appreciate them as I have.
Each case study illustrates two or three elements from Kellert's list and describes in detail how the project addresses three attributes listed under those selected elements. I selected attributes based on extensive interviews with the design teams, owners, and occupants, as well as from their own narratives and presentations describing their approach to biophilic design. In most cases, I also conducted an in-person site visit. The attributes discussed during the interviews were not always the ones I selected. For example, with one project it was clear to me that connection to place and climate drove the design, yet strangely, the design team did not mention these influences.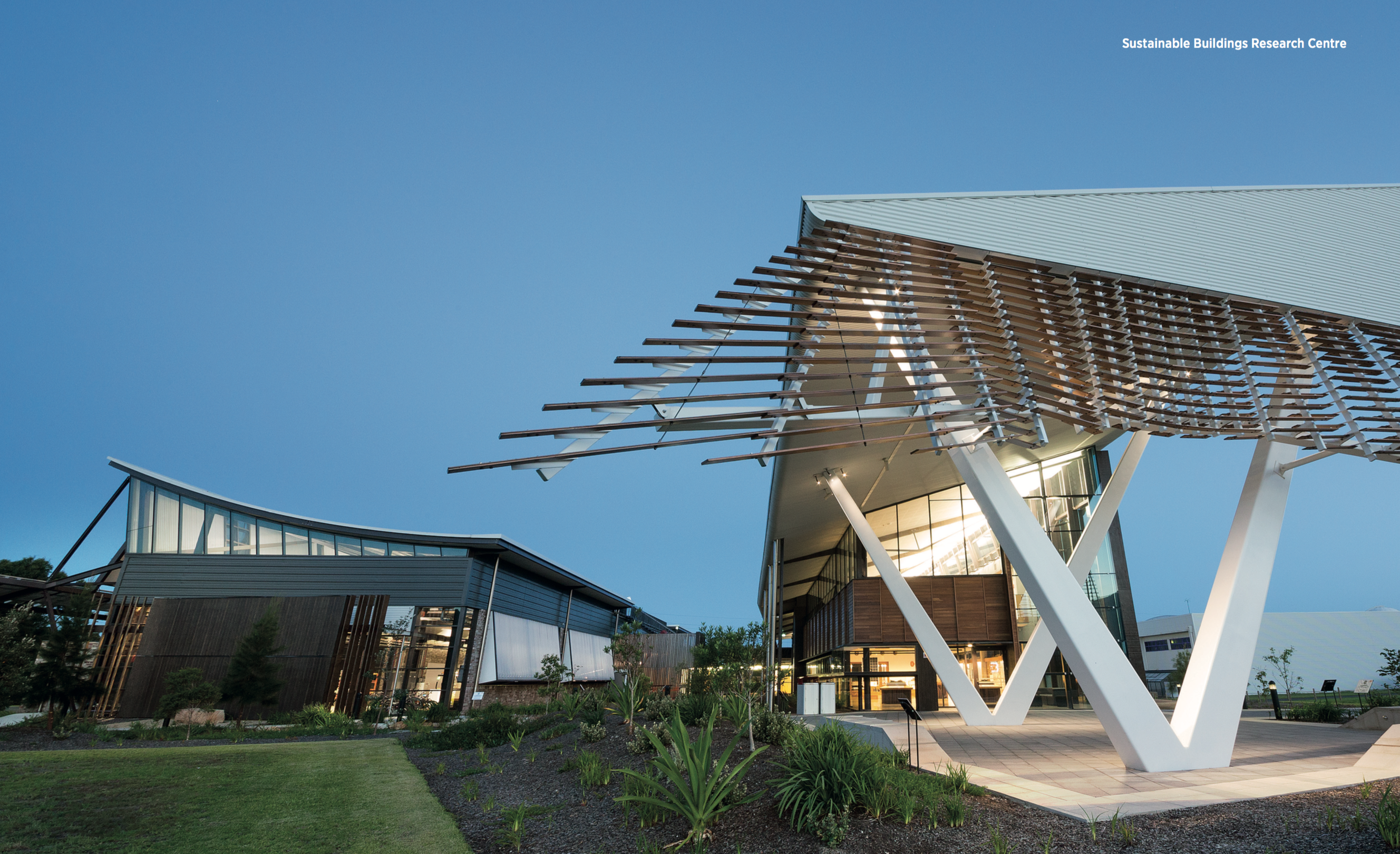 Several projects embraced biophilic design more fully and illustrated more than the three elements we chose to feature. However, in order to show a range of examples and strategies, I selected the elements and attributes that both tell a good story about biophilic design and provide valuable lessons learned.
Viewing these case studies as a group has been illuminating. Some projects have been more successful than others at integrating biophilic design into their design generation and conceptual development, and the inclusion of a special case study does not imply that it is exemplary in every category of biophilic design. It is important to acknowledge that these design teams are also on a journey to understand and discover how biophilic design can inform their practices. The key takeaway is to recognize the potential that biophilic design can bring to our buildings, both now and in the future.
Citations
Stephen R. Kellert, Judith H. Heerwagen, and Martin L. Mador, Biophilic Design: The Theory, Science, and Practice of Bringing Buildings to Life (Hoboken: John Wiley & Sons, 2008), Table 1.1, p15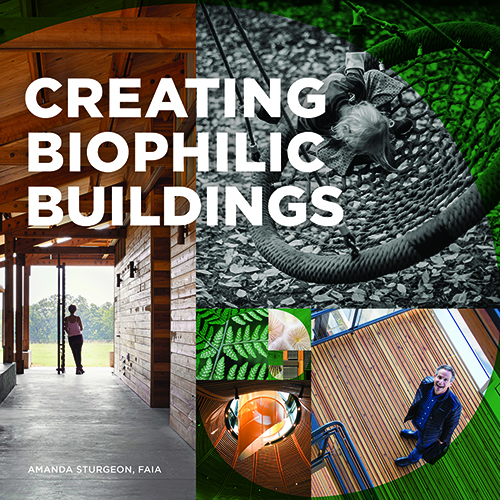 About Creating Biophilic Buildings
What if we could experience the same physical, psychological, and emotional benefits moving through an urban landscape that we experience walking through a forest?
What if we could right our relationship with nature by transforming the built environment in a way that ensures buildings function in harmony with the natural world?
Creating Biophilic Buildings by Amanda Sturgeon calls for an intentional biophilic design renaissance providing a fresh, insightful place to begin exploring how to create places where people and nature can thrive together.