Finding Funds for Good: The Illinois Clean Energy Community Foundation
The International Living Future Institute (ILFI) has been working with the Illinois Clean Energy Community Foundation (ICECF) for numerous years to help support projects that have the target of Zero Energy in mind. The following is a result of a conversation that Haley Gardner, Manager of Energy + Carbon at ILFI, had with Gabriela Martin, Program Director, Energy at the ICECF, to discuss the overall achievements of the foundation, highlight some successful projects, and discuss the future of the foundation's work. This program hopes to inspire other municipalities and project teams to evaluate potential catalysts similar to this foundation that can help move the market and support the development of more new net zero energy buildings.
Overview
The Illinois Clean Energy Community Foundation (ICECF) was founded in 1999 by a local utility as a private foundation with a $250 million endowment with a three-part mission: 1) advance energy efficiency, 2) promote renewable energy, and 3) preserve natural areas within the state of Illinois. The foundation's grant making is restricted to 501c3's and local government agencies that serve Illinois residents.
Over the last 10 years, the focus started to shift towards buildings being celebrated for their performance rather than design. The ICECF had found that projects could submit promising modeled data but once the projects were checked up on, their performance data sometimes told a very different story. Therefore, they pivoted to requiring teams to submit actual performance data instead of modeling information. This new rigorous element added to the grant dovetailed nicely into kicking off a net-zero building target as it became easier to encourage teams to aim for this higher efficiency goal once their building's performance was understood.
Net Zero Energy Buildings
In 2016, the ICECF launched the Net Zero Energy Building Program to further focus their support of high-performing buildings that achieve an energy balance via energy efficiency and on-site renewable energy. In order to be an eligible applicant for this program, the building project must be registered with either Passive House (PHIUS+) or any International Living Future Institute (ILFI) program, such as Zero Energy or Living Building Challenge (LBC). If pursuing PHIUS+, the teams must receive a Pre-Certification Confirmation letter from Passive House wherein the project's drawings, models, and other relevant documents are reviewed. If pursuing an ILFI program, the team must receive a Design Development Review Report from ILFI which shows a project team's alignment with applicable requirements based on design drawings and narratives describing relevant energy systems.
When the Net Zero Energy Buildings Program was created, there were not very many projects pursuing net-zero energy in the midwest. However, the ICECF was confident this was the right path to forge. Local professionals in the AEC community had been under the impression that net-zero was not a feasible target for buildings in this region due to a climate that experiences a more extreme climate and does not receive constant sun. However, case studies started to arise about more and more buildings in harsher climates with less sun achieving this balance through intentional decisions made early on in design.
"Many architects at the time would add green building elements the way you would hang ornaments on a Christmas tree, not as an integrated strategy. With net-zero as a goal, we wanted to force designers to begin this thought process right from the beginning." -Gabriela Martin
ICECF understood the potential of these types of projects and therefore sought to jumpstart this work and support teams who wanted to take on this challenge in order to work towards a more sustainable future. The Foundation also saw net-zero as a simple concept that was easy for newcomers to understand – take what you use and what you generate, now make sure it balances out. It was a calculation that was easy to hold people accountable for when those numbers were combined, without adding any convoluted data around EUI (energy use intensity) or any other metrics.
Grant Process and Successes
Over the last years, the Foundation has awarded 11 grants (4 schools, 3 recreational centers, 2 affordable housing projects, 1 community center, and 1 municipal complex) that range in size from 14,000-73,000 square feet. At the Foundation's founding, the anticipated target audience was going to be small to medium projects (5,000-25,000 SF) as they did not anticipate any larger projects to be interested in taking on the challenge. However, from the onset they were surprised at the scale of projects that applied and showed great potential for achieving this goal of net-zero.
In order to receive a grant, the teams need to follow a 3-step application process:
Provide an RFI (request for ideas) wherein the Foundation will assess if they should be invited to go on to the next step,
The Pre-Proposal where a more comprehensive application that aligns with the completion of schematic design reviewed, and
The Final Proposal due upon completion of design development.
During this process, the two key attributes the ICECF looks for in an applicant are their commitment to the goal of net-zero and that they are early in their design process. Additionally, while it is important that the team is not only applying for the monetary benefits of this grant, they must be financially stable and have all other funding prepared such that the project team is progressing in a timely manner once the grant is awarded. In order to ensure the team is committed, the Foundation looks to understand that they are willing and ready to perform ongoing monitoring to ensure targets are met and that they are early enough along to integrate best practices into their strategy and come in with a concept and completed research, rather than belatedly adding elements on quickly at the end. Lastly, they are looking to ensure that the level of complexity of the building operations will be manageable for the building occupants.
Project Spotlight
Out of the projects that have either been awarded or applied for the grant through the ICECF, four have chosen to pursue ILFI's Zero Energy Program. A summary of each project can be found below.
Adlai Stevenson High School (Lincolnshire, IL)
A 56,800SF addition to Adlai Stevenson High School that provided spaces for new language classrooms, maker space labs, multi-purpose presentation spaces, and physics + engineering lab spaces. There is also rooftop access to a greenhouse and other botany spaces making the project a living lab. The project achieved ILFI's Zero Energy Certification in December of 2020.
Explore ILFI's case study here and the architect's project write-up here.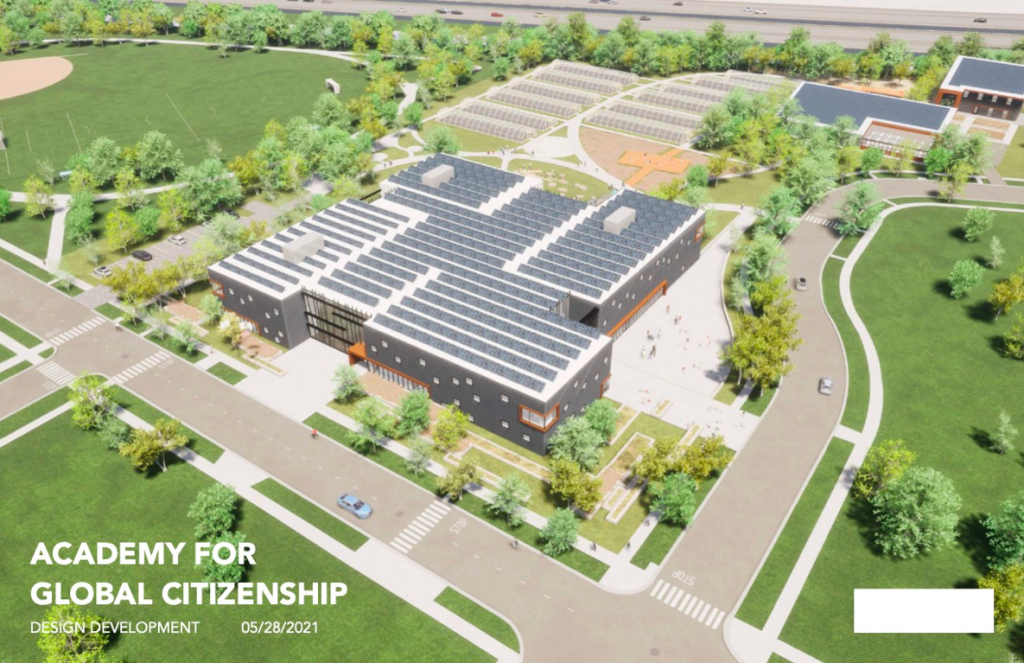 Academy for Global Citizenship (Chicago, IL)
The Academy for Global Citizenship's new six-acre campus includes a 72,000SF school building for nearly 600 students, preschool through 8th grade. The space also includes a three-acre farm with a barn, multiple greenhouses, hoop houses and livestock. The project team has a holistic design approach that they hope will serve as a learning lab as well as a model for modern school design, with aims to have a very positive impact on the community it serves.
The Academy completed the Design Development Review Report in June of 2021 that confirmed its potential to achieve a net-positive energy balance, and is aiming to achieve ILFI's Living Building Challenge.
Learn more about the school itself here and read more of its project details from the architects here.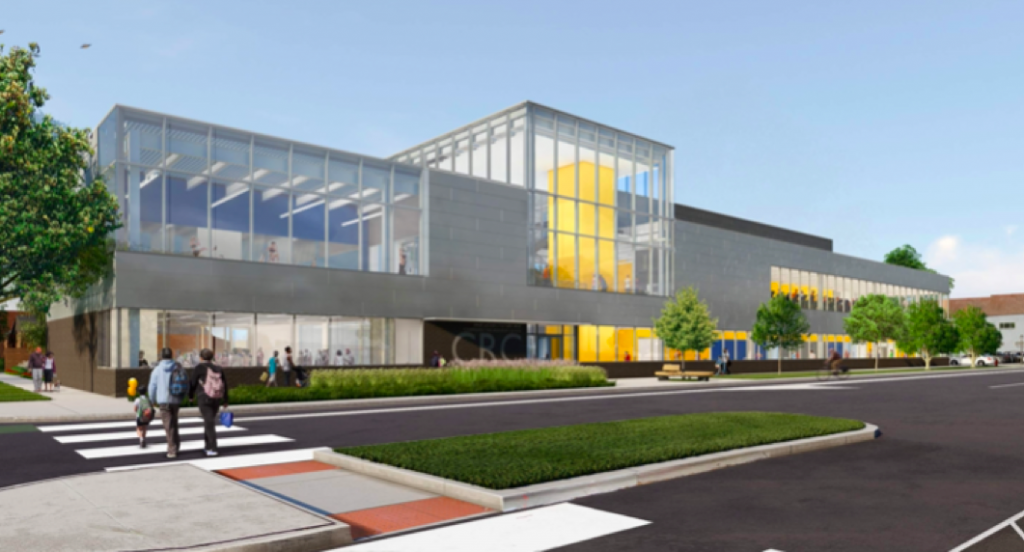 Oak Park Community Center (Oak Park, IL)
In pursuit of Zero Energy Certification, the Oak Park Community Center is a 42,000SF building that includes a multitude of spaces such as a fitness center, locker rooms, eSports rooms, multipurpose meeting rooms, and a wellness suite. This is a community-centered project that is aiming to be a comfortable space for all occupants. The project incorporates numerous sustainable design features on top of all elements needed for net-zero energy design, including a green roof, bioswales, and permeable pavers.
Learn directly about the project from the community here.
Countryside Municipal Complex (Countryside, IL)
In pursuit of Zero Energy Certification, this 36,000SF government building that includes a city hall and police station became the first municipal building in the state of Illinois to perform at net-zero energy. Located off of historic Route 66, this project sets the example for what all new government projects should look like. Additionally, despite having no utility bills due to a local franchise agreement with the utility, this project still chose to pursue net-zero energy to achieve this high level of sustainability within the building sector.
Learn more about the project from the designers here.
Future Plans
One of the most exciting next steps for the grant is to start outreach to keep spreading the word of the excellent work they are doing. They currently work with local Passive House and ILFI Collaborative chapters, but are just beginning to think about what they can do in 2022 to share what they have learned so far. Some plans include building owner outreach, collaboration within the AEC community, research on building codes and any barriers that may remain, and the creation of working groups to directly work together on these issues.
Call to Action
The ICECF exists to show people that net-zero is a feasible target for all projects. They want people to be willing to take the risk so they can realize that it is worth doing. Yes, there is extra effort required and there may be moments early in design when difficult decisions need to be made, but it is work doing for the sake of the project's impact and the environment, not to mention the extra funding for the project itself. It is especially beneficial to schools and non-profit organizations that are better off spending their funds on their programming instead of utility bills. ICECF welcomes teams to dream about what more they can do with this money saved when net-zero is the goal.
ILFI invites project teams to reach out to their local municipality or governing agency to see if there are similar programs or funding opportunities in their area to support the development of net-zero projects. If no such programs exist, consider advocating for their creation as one way to support the creation of a Living Future for All.
For more information about the ICECF or their green building program, please reach out to Gabriela Martin at gmartin@illinoiscleanenergy.org.