2021 Project Registration Recap
Data & Trends
International Living Future Institute programs, including the Living Building Challenge, Core, Zero Carbon, and Zero Energy, are performance-based, whole building design and construction standards. They are the most ambitious green building certifications globally, setting a new paradigm of how buildings can operate. In 2021, ILFI registered more than 100 projects in 18 countries on six continents across the globe. When combined, these projects represent more than 11 million square feet (or 1 million square meters)!
We are growing internationally – 43% of our project registrations were outside the United States. We're seeing global growth in Latin America & the Caribbean, including Antigua, Brazil, Costa Rica, Mexico, and St Lucia. Asia & Oceania have grown with projects registered in Australia, China, India, New Zealand, Singapore, Taiwan, and the United Arab Emirates. Europe has reported projects in Greece, Ireland, Luxembourg, and the Netherlands.
There is a strong demand for Zero Carbon and Zero Energy certifications, leading the way with over half of this year's total registered gross building area (5.66 million square feet). The Core Green Building Certification (Core) is becoming a popular choice for residential projects, representing more than half of the 29 Core registrations. Of the 33 Petal and Living registrations, 80% of the square area was commercial use, with 11% seeking certification for residential projects.
Overall, 60% of total registrations were commercial projects with growth in office spaces and warehouses pursuing Living and Zero Carbon, respectively. 13% of our projects, or nearly 1.5 million square feet of area, were of a residential type. Sixteen affordable housing developments were registered, totaling 1.22 million square feet – a tremendous growth.
We had a record-breaking year, registering more new projects than any previous year since our founding. We've had an 87% growth in the number of registered projects and a 48% increase in square area compared to 2020. This growth represents 11% in the total number of registered projects and 32% growth in the overall square area of registered projects.
Significant Projects
Aspen Distillery | LBC Living – Basalt, CO, USA
Aspen Distillers will be a farm-to-bottle distillery producing premium quality spirits. Through partnerships with local growers and by growing a variety of plants on the site, Aspen Distillers will produce high-quality products that speak to and support the agrarian roots of the Roaring Fork Valley in Pitkin County, Colorado. The project encompasses a 5,000 SF distillery building that will be the focus of our Living Building Challenge project along with an onsite wastewater treatment facility. The site will also include a headquarters building, rickhouse, and three small residences. The site incorporates over 4 acres of agricultural area for crop production.
Best Products Building | LBC Living – Henrico County, VA, USA
GreenCity is a proposed 200-acre mixed-use eco-district community in Henrico County, VA. Among the more consequential concepts in the plan, is the re-purposing of the former BEST Products Headquarters Building, turning it into an emblematic, 300,000 SF 21st-Century workplace and embracing the full spectrum of the Living Building Challenge. As part of the goal to create a Living Building, the roof is to be fully developed as an extension of the building's tenant program and an embrace of the surrounding eco-district goals. Amenity decks will offer tenants a variety of environments that will blur the lines between work and play. Rooftop farming programs will provide tenants with the opportunity to directly interact with the community through activities that can transform the development into something more than simply a place to work.
Gandhi Mahal | Pangea World Theater | Core – Minneapolis, MN, USA
The Gandhi Mahal restaurant was burned down in the uprising following the murder of George Floyd. They are partnering with Pangea World Theater to build a mixed-use program to serve the community. Programs include a new restaurant space for Gandhi Mahal, including seed bank, commissary kitchen, market | butcher, community space, and a rooftop greenhouse. Pangea World Theater's spaces will include a 250-seat theater, a plaza for outdoor performance, cafe, and community workshop spaces.
DBS Newton Office Building | Zero Carbon + Zero Energy – Singapore
The project site is an existing 4-story building in Singapore, owned by DBS Bank Ltd. The building comprises a bank branch on the ground floor, along with offices and common areas on the additional floors. The objective is to upgrade the existing facilities in a way that significantly reduces energy usage. The building is rezoned and redesigned to reduce air-conditioned spaces and leverage passive strategies. This project is considered significant as DBS plans to use it as a pilot for upcoming projects, so all the technologies being experimented with are planned, upon successful performance, to be implemented across the DBS buildings portfolio. Additionally, renewable energy systems will be installed to generate energy onsite.
Ōtorohanga Kiwi Park Redevelopment | LCC, LBC Living – Ōtorohanga, New Zealand
Ōtorohanga Kiwi House is an iconic New Zealand native bird park and conservation trust in operation since 1971. It was the first Kiwi house open to the NZ public and hatched the first Kiwi chicks from incubation in 1975. A very proud history, the park sits within the rural township of Ōtorohanga within the Waikato district of the North Island of New Zealand. The park is now undertaking a complete redevelopment, retaining and refurbishing some buildings, construction of 12 new infrastructure aviary/habitats, and new buildings. The redevelopment will be undertaken to the Living Community Standard. Four new buildings will be constructed of which two are intended to achieve full Living Building Challenge certification.
Vlahoke | LBC Living – Weogufka, AL, USA
Ekvn-Yefolecv is an intentional ecovillage community of Indigenous Maskoke persons who, after 180 years of having been forcibly removed from traditional Alabama homelands, have returned to practice linguistic, cultural, and ecological sustainability. The project, Vlahoke (uh-lah-hoe-ghee), is a building typology of approximately 25,000 square feet and has a projected open date of Spring 2025. This building, aiming to achieve Living Certification under Living Building Challenge version 4.0 and will serve multiple functions: 1) eco-learning center – wherein guests will inherently interface with off-grid integrated regenerative systems during their retreats, board meetings, spiritual gatherings, and academic field education; 2) museum – to educate the public about historical and contemporary racial justice and Indigenous cultural worldview; 3) farm-to-table restaurant; 4) hike in/out and lodging space for hikers on the Pinhoti Trail – a 335-mile hiking trail that connects to the southern terminus of the Appalachian Trail.
Map of Public (Non-Confidential) Projects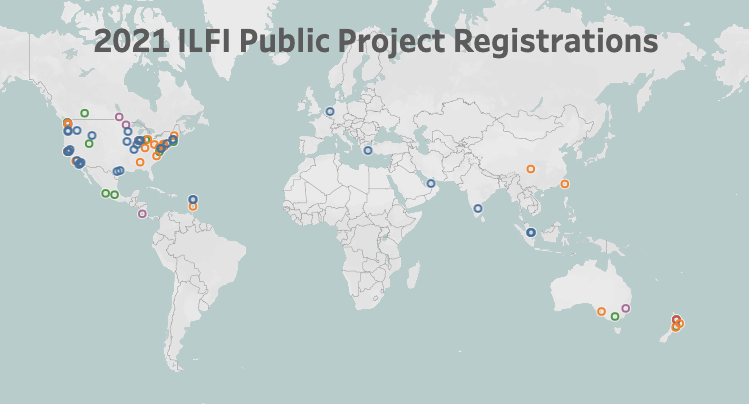 Please visit the interactive map linked above to learn more about our publicly announced (non-confidential) projects that registered this year. You can view more information on the project location, type, and square area.
See an error on the map? Let us know!
2021 Project Registrations (115)
Zero Carbon (24)
31 Tufts – Somerville, MA, USA
Casa Adelante – 681 Florida Street – San Francisco, CA, USA
Kelso House – San Antonio, TX, USA
Pefkon360 – Polidendri, Attica, Greece
GreenA Consultants HQ – Singapore
Bora Studio – Portland, OR, USA
1416 12th Street – Oakland, CA, USA
Penn's Landing Pavilion – Philadelphia, PA, USA
16 Confidential Projects
Zero Energy (25)
Navigate Office Center – St Louis, MO, USA
Ardor Wood Farm – Red Rock, TX, USA
Lakeside Branch Library – Lakeside, CA, USA
MC2 HQ Building – Abu Dhabi, UAE
City of Berkeley Adult Mental Health Clinic – Berkeley, CA, USA
CoSD – Borrego Springs Library – Borrego Springs, CA, USA
Net Zero Agriculture Complex – Heartland Community College – Normal, IL, USA
Raccoon River Park Boathouse – West Des Moines, IA, USA
Success High School – Woodburn, OR, USA
2500 Wilson – Arlington, VA, USA
Oak Park Community Recreation Center – Oak Park, IL, USA
Reddy Sustainable Home Panaiyur – Chennai, India
Sundial Building – Minneapolis, MN, USA
PG&E Davis T-Line Fab Shop – Davis, CA, USA
Hollywood Recreation Center – Los Angeles, CA, USA
Ohio Street Probation Center – San Diego, CA, USA
Stead Park Community Center – Washington DC, USA
4 Confidential Projects
Zero Carbon + Zero Energy (3)
Tree Haus – Wilson, WY, USA
Antigua Solar Cabin – Long Island, Antigua & Barbuda
DBS Newton Office Building, Singapore
Core (29)
Green Architecture Research and Evaluation Center – Chengdu, Sichuan, China
Hazelwood Community Land Trust Homes – Pittsburgh, PA, USA
Kite Crossing – Los Angeles, CA, USA
350 China Basin Street – San Francisco, CA, USA
Swarthmore College Martin Building Renovation & Addition – Swarthmore, PA, USA
Muhlenberg College Parkway Community Building – Allentown, PA, USA
Yee Chain International Co., Ltd. Headquarters – Taichung City, Taiwan
Paremata Apartments – Porirua, Wellington, New Zealand
Cape Cod Pavilion – Barnstable, MA, USA
Lovettsville Square South – Lovettsville, VA, USA
Spring Street – Cincinnati, OH, USA
Scotch College Wellbeing & Sports Centre – Torrens Park, South Australia, Australia
Jade Mountain Resort – Soufriere, SLU, Saint Lucia
Unity House – Detroit, Michigan, USA
FSi Engineers Seattle Office – Seattle, Washington, USA
Gandhi Mahal | Pangea World Theater – Minneapolis, MN, USA
Environmental Education and Research Center (EERC) – Kenmore, WA, USA
Unison Networks Windsor Substation – Hastings, Hawkes Bay, New Zealand
337 Cumberland Ave – Portland, ME, USA
2301 Ensley – Birmingham, AL, USA
Alma Street Commons – Durham, NC, USA
8 Confidential Projects
Living Building Challenge – Petal (10)
Glendarrah CoHousing – Hazelbrook, New Zealand
180 Jones Street – San Francisco, CA USA
Conservatory Apartments – Chicago, IL, USA
Everett Housing Authority Baker Heights Phase 2 – Everett, WA, USA
Providence Generations – Issaquah, WA, USA
Jean & Ric Edelman Fossil Park at Rowan University – Sewell, NJ, USA
Brown-Teal Residence at Deer Lake – Deer River, MN, USA
Casa Tamarindo – Tamarindo, Costa Rica
Little by Little Studios – Winnipeg, MB, Canada
1 Confidential Project
Living Building Challenge – Living (23)
Island Grown Farm – Vineyard Haven, MA, USA
King County Metro Transit Bus Stop – Auburn, WA, USA
Pā Reo – Otaki, Wellington, New Zealand
Nexus Builds 2021 – Sacramento, CA, USA
Nexus Builds 2022 – Salt Lake, UT, USA
Circlewood Village – Camano Island, WA, USA
Academy for Global Citizenship New Campus – Chicago, IL, USA
Nayan and Meaghan's Regenerative Homestead – Manchester Township, MI, USA
6817 Greenwood – Seattle, WA, USA
Best Products Building – Henrico County, VA, USA
Mount Rose – Avenell, Victoria, Australia
Pabellón de la Isla – Lerma Municipality, Mexico
Ōtorohanga ​​Nocturnal House – Ōtorohanga, New Zealand
Ōtorohanga ​​Visitor Centre – Ōtorohanga, New Zealand
Flor de Piedra – Tapalpa, Jalisco, Mexico
Vlahoke – Weogufka, AL, USA
Polar Bears at The Canadian Wilds – Calgary, AB, Canada
Old First House – Philadelphia, PA, USA
Aspen Distillery – Basalt, CO, USA
4 Confidential Project
Living Community Challenge (1)
Ōtorohanga Kiwi House Redevelopment – Ōtorohanga, New Zealand
Photo rendering by Anderson Mason Dale Architecture