The Team that Built the Brock Environmental Center
Since opening in late 2014, the Chesapeake Bay Foundation's (CBF) Brock Environmental Center in Virginia Beach has greatly exceeded expectations. The Brock Center received its Living Building Challenge certification in May of this year, and it is the first commercial building in the continental United States permitted to capture and treat rainfall for use as drinking water.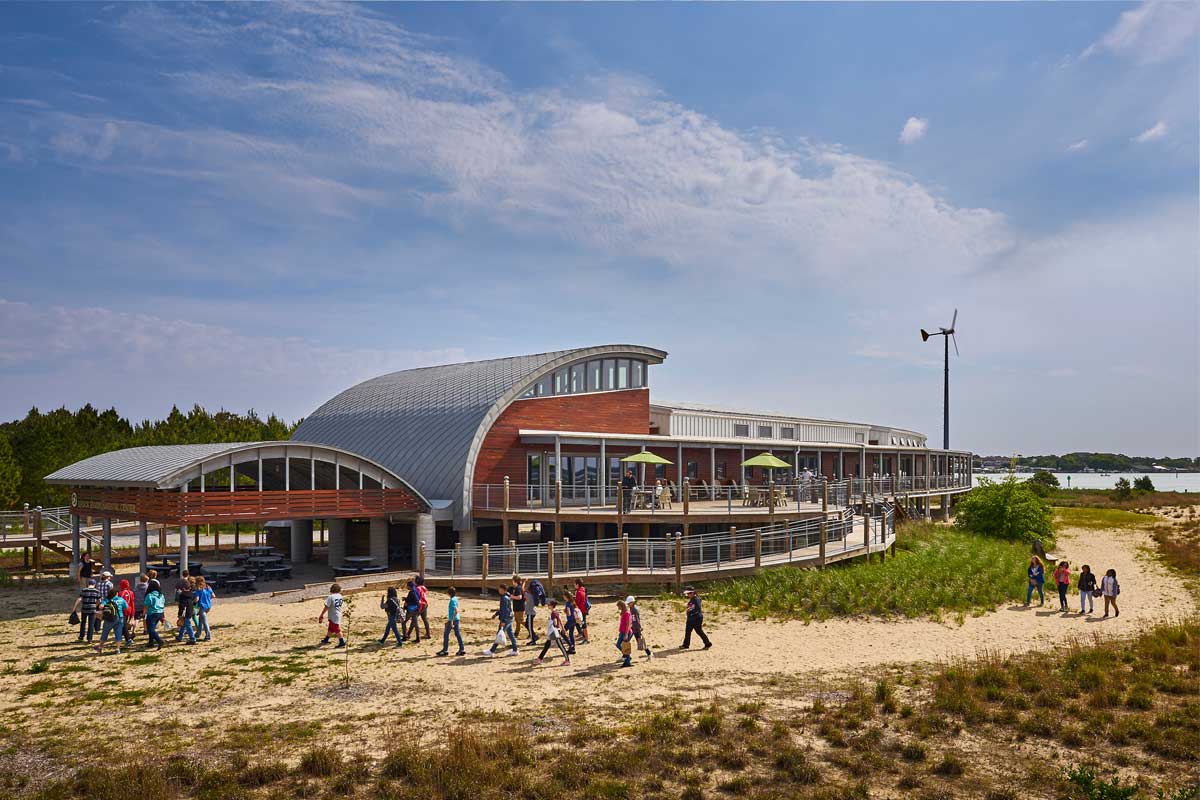 With solar panels, wind turbines, geothermal wells, rain cisterns for drinking water, waterless toilets, and natural landscaping, the center is a model for efficiency. Elevated 14 feet above sea level, it is also a prototype for coping with climate change in a region increasingly prone to flooding.
The results so far have been remarkable. Electrical hookup fees for the 10,500-square-foot building add up to only about $17.19 per month, the minimum fee to tie into the grid. In fact, in the past year the center has produced about 83% more energy than it has used. Thanks to conservation efforts and innovative technologies, the building uses 90% less water and 80% less energy than a typical office building of its size.
The center houses CBF's Hampton Roads staff and that of another local environmental nonprofit, Lynnhaven River NOW. It also hosts CBF's award-winning environmental education programs in Hampton Roads and features meeting space for community discussions and collaboration.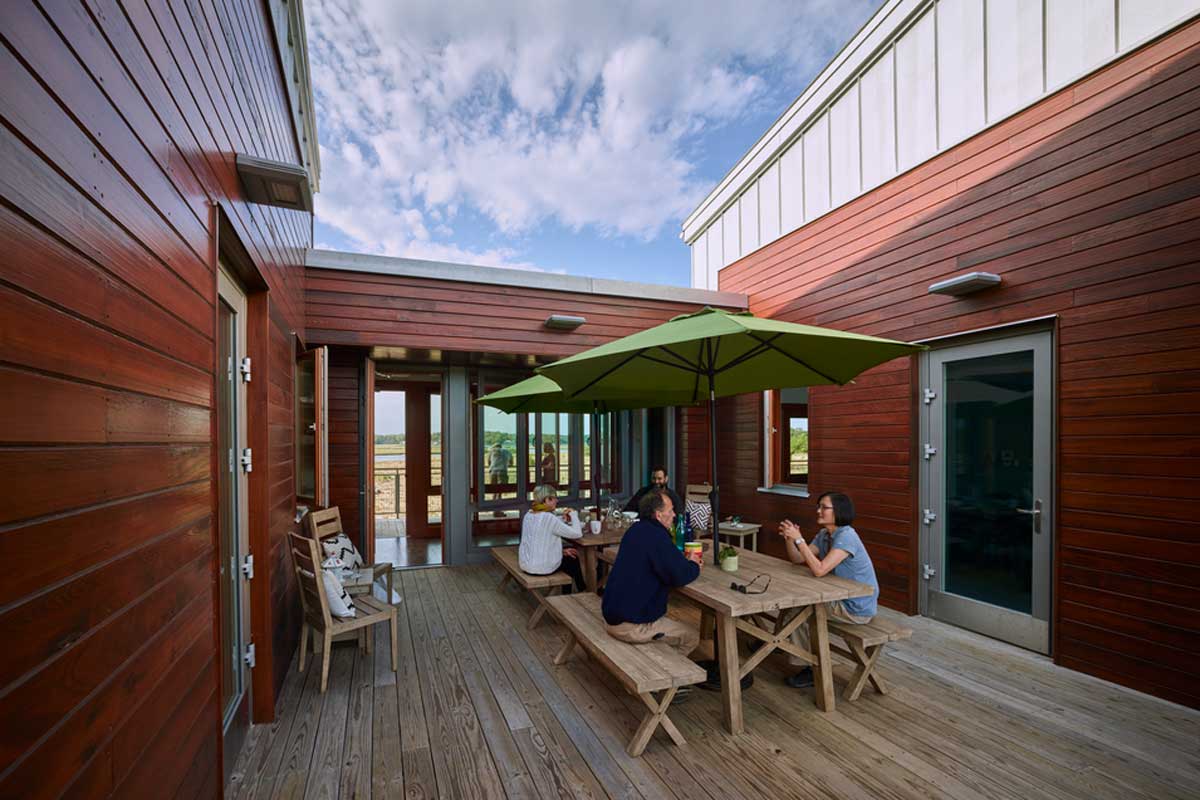 From the very beginning, the Brock Center was a team effort. Along with CBF, important partners include architect/MEP engineer, SmithGroupJJR; general contractor, Hourigan Construction; owner's rep Skanska; WPL Site Design; and J. Harrison, architect. This truly transformational building wouldn't have been possible without a stellar team of transformational leaders. Below are some of their stories.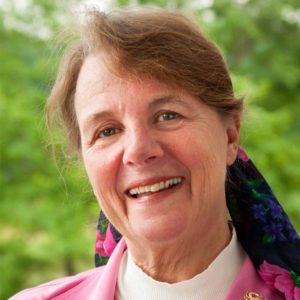 Mary Tod Winchester
Chesapeake Bay Foundation Vice President of Administration and Operations
For Mary Tod Winchester, the Brock Center is the culmination of over four decades of pushing the envelope with sustainable building practices. Winchester began working for CBF in 1971, and has seen the organization grow from its first building in 1975, a log cabin with a composting toilet, to the 2001 completion of the group's headquarters at the Philip Merrill Environmental Center, the world's first LEED Platinum Building.
At the Brock Center, pursuing Living Building Challenge certification was a chance for CBF to set the bar even higher. "The Living Building Challenge made us stretch our thinking, forcing us to go further and be more ambitious and creative in finding solutions," says Winchester. "As a result, this building has become a game-changing teaching tool. People are eagerly learning that it is possible for each of us to reverse our negative impact on the natural environment."
For the environmental nonprofit that works to restore the Chesapeake Bay and local rivers and streams, promoting innovative building practices is a matter of "practicing what we preach," according to Winchester. "For far too long, people have taken the easy way out with buildings that consume huge amounts of resources and send polluted runoff into our waterways. So we set out to create a center that actually gives back to the environment," she said.
The building nests gracefully into the surrounding rivers, coastal forest, and marshes. The center is not just office space, it's also an important part of the community, hosting education programs, conferences, discussions, and local events for all. Its beauty and elegance has turned it into a magnet for visitors, with over 30,000 people coming in the building's first 18 months.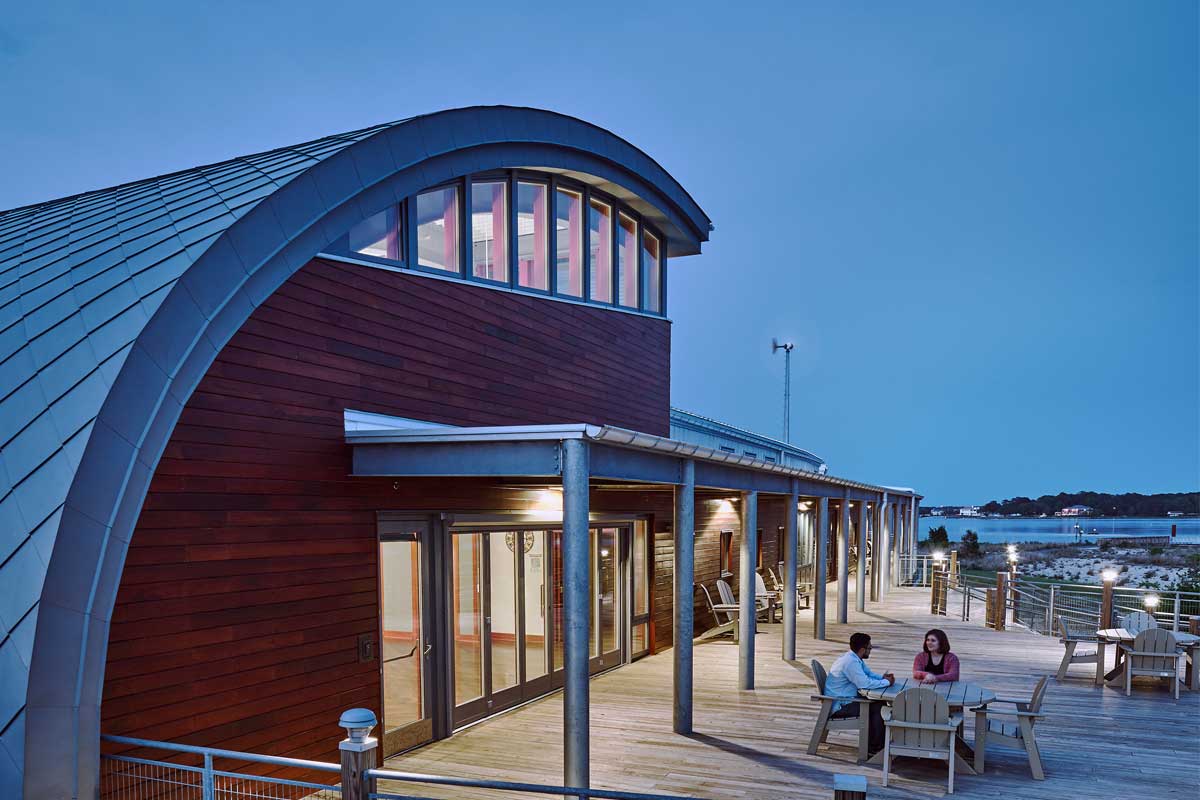 That's exactly what Winchester hoped would happen. "The Brock Center has become a beacon that inspires others," she said. That includes everyone from an architect or developer tackling a new living building project, to a local resident looking to install a rain garden to stop polluted runoff.
The center is an important part of CBF's mission to reduce pollution in the region. "I always tell people that they don't have to build another living building to make a difference. If they can take away one thing to do themselves from their visit to the Brock Center, they're moving in the right direction," Winchester said. "When people take action, they become part of something bigger. All of a sudden they're part of the team working to restore our environment."
The building is located on one of the few undeveloped waterfront properties in Virginia Beach, and has expansive views over the blue waters of the Lynnhaven River. "The Brock Center's design draws you in," Winchester said. "When you enter, you see the waters we are working to save, the salt marshes, the migratory birds. It's a huge recruiting tool. After seeing it, people are inspired. They want to volunteer with us, become members. They often ask 'How do I get a job here?'"
With the Brock Center far exceeding expectations, Winchester said it wouldn't be possible without the dedication of the project's partners, which include SmithGroupJJR, Hourigan Construction, WPL Site Design, Skanska, and J. Harrison. "Part of my job was picking the right team members," she said. "I saw them get excited and push each other, building partnerships and camaraderie. There's no way we would have blown past our goals without such a cohesive partnership."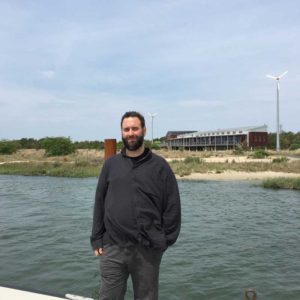 Greg Mella, FAIA

SmithGroupJJR Director of Sustainable Design, Vice President
Greg Mella, vice president and director of sustainable design at SmithGroupJJR, was the architectural designer and project manager for the Brock Center. For the Washington, DC–based architect, it was an opportunity 15 years in the making.
The story dates back to 1998 when SmithGroupJJR and Mella collaborated with CBF to design the Merrill Center, his first exploration into sustainable design. As he stayed connected to Winchester and the project during the decade that followed, he witnessed how a single building could help shape society to embrace sustainability. The experience increased Mella's understanding of how CBF leverages its green buildings as an environmental education tool, and provided countless lessons learned on sustainable design.
So in 2012, when Winchester told Mella that CBF was interested in creating another environmental education center, this time for the Hampton Roads region, he leapt at the opportunity to create a second pioneering design.
"I recognized the opportunity to apply the lessons learned from Merrill to a new design," Mella recalled. "At the same time, I could translate into reality what I had learned as a Living Building Challenge ambassador."
The design of the Brock Center is rooted in its unique site. The design process began with a site visit, during which Mella catalogued its unique attributes and resources. He explored how the form of the building could harness breezes and sunlight—to not only minimize the reliance on energy, but also to generate power. The site would also serve as a design inspiration, challenging Mella to draw on the beauty of the shoreline, marshes, and meadows to create a form that was of its place.
"We envisioned the Brock Center to be a living, breathing organism, fine-tuned to harness the site's resources and to blend indigenously with the shapes, colors, and spirit of Pleasure House Point, while embodying the soul of CBF," Mella recalled. The curve of the building's form responded to the nearby shoreline, maximizing daylight and views while embracing passive solar principles. The design of the building's prominent, curving roofs was inspired by the forms of the site's wind-swept live oaks, the wings of a gull, or the protective shell of an oyster, while also embodying rainwater collection.
Working hand in hand with his SmithGroupJJR colleague Cindy Cogil, who led the engineering systems design, Mella's design approach was marked by a highly iterative, integrative process using simulation tools to validate each design decision. These tools allowed the design to optimize performance resulting in maximizing passive design while minimizing resource consumption.
Architects often think their involvement ends after construction is complete and the photographer snaps the building's portfolio of professional photography. Conversely, the Living Building Challenge requires the team to stay engaged during the building's first year of operation, until the team can demonstrate that net zero energy, water, and waste has been achieved.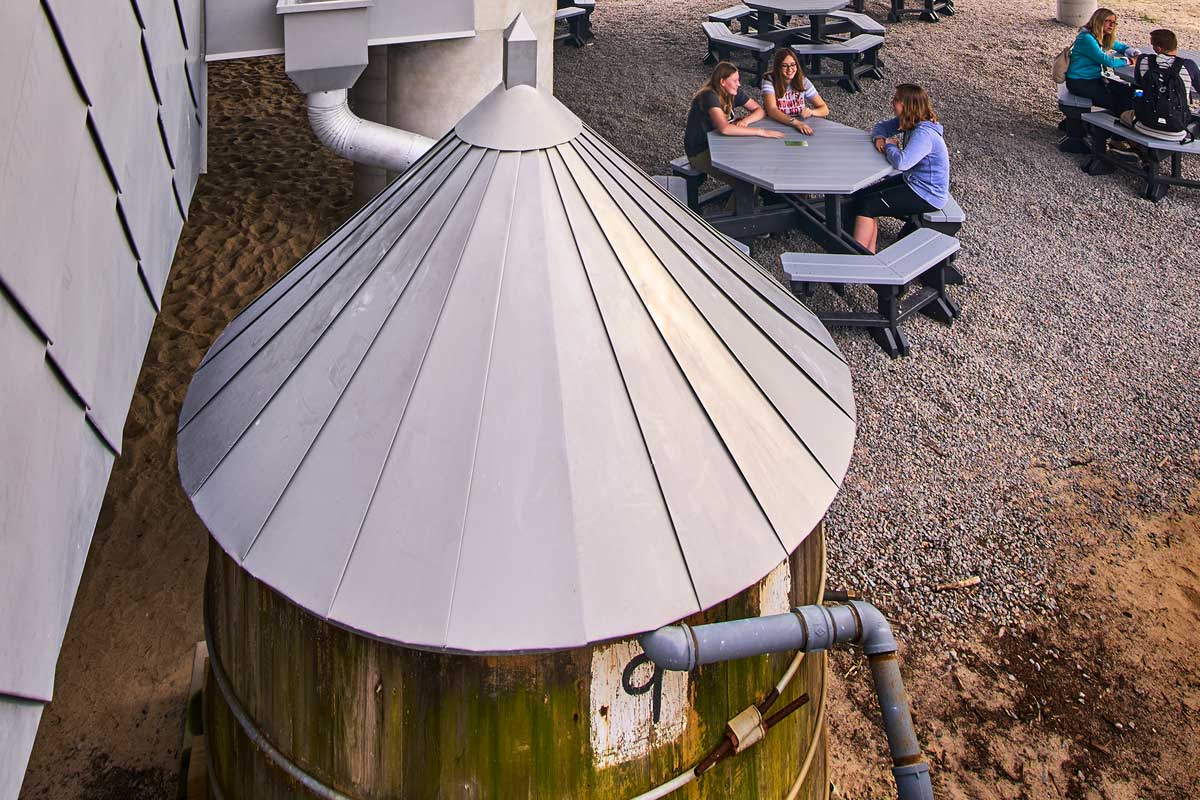 For Mella, this makes complete sense. "Buildings, especially Living Buildings, are like living organisms. We don't abandon our children after giving birth, and staying engaged until our 'babies' are successfully operating on their own is a learning opportunity to truly understand how to achieve success," he explained.
"Staying involved with the Brock Center during its first year was both rewarding and informative. I know the lessons our team learned will carry forward throughout our careers."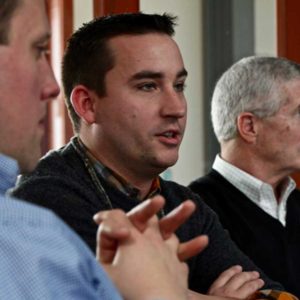 Tyler Park
Hourigan Construction Assistant Project Manager
It's not often that the first project of your construction career is one of your biggest and most significant. But that's what the Brock Environmental Center may become for Hourigan Construction's Tyler Park.
"This will be one of the most important buildings I'll ever have a part of creating," says Park, who joined Hourigan in 2012 after graduating from Virginia Tech a year earlier. The Brock Environmental Center project was his first development with Hourigan, and, during construction, his sole focus. "It's incredibly rewarding looking back, seeing the responsibilities I was given and seeing how the project team and the project itself came together as a whole. It's incredible to watch that grow and know you had a hand in it."
Since the project's completion, Park has become an expert in sustainable construction, speaking about sustainability and the Brock Center on behalf of Hourigan as he travels to conferences around the country.
In the beginning, his initial role involved pulling together documentation for materials involved in the construction. Over time, Park was given the responsibility of securing the required materials for the project, including zinc roofing, triple-paned windows, old wood flooring from a middle school gymnasium, salvaged sinks and mirrors, and century-old cypress timbers pulled from the bottom of Southeast waterways that would be used as siding.
"There was an incredible amount of work done to ensure that the proper materials were gathered. There were over 5,000 pages of documentation collected during the process," he says, noting that though he was leading the charge, many other individuals were essential in gathering and analyzing information. "Without them, we would never have finished getting everything put together."
Park, now 28, became irreplaceable and highly knowledgeable in the specifics of the material needs at Brock. Initially a part-timer with Hourigan, he was hired as a full-time employee to manage quality control, and eventually promoted to assistant project manager to run the day-to-day needs of the Brock Environmental Center's creation. He continues to be involved in post-occupancy building performance testing.
Park became passionate about the materials associated with the project. He and the Hourigan team took the time to source and vet every piece that went into the Brock Center. In addition, subcontractors, vendors, and manufacturers all had to be educated on why materials were so critical to meeting the Living Building Challenge requirements. He recommends that general contractors heading into LBC projects lead the material gathering and documentation process.
"We became invested in the research and took time to find the materials. So if I spent six months trying to find a specific product, I'd be absolutely sure that the contractor was going to put it in the building correctly," Park says. "Going into a project like this with anything less than 100% dedication isn't the Hourigan way. I spent many a sleepless night and weekend making sure that all elements of this project were done right."
Construction was complex and had its share of challenges, and it required constant communication from the many teams involved. "There were many hurdles and questions and gives and takes, so we had to work together as a team in order to succeed," Park says. "Everyone understands that it was important to come together, find solutions to problems, and move forward to do the right thing for the project and mission. "
Today, the team members involved in the creation of the Brock Center consider themselves family, even more than a year after completion. Dinners at one another's homes in the Hampton Roads area are the norm.
"Four or five months into energy reporting we realized that we were really doing well—the building was overproducing electricity, and even the water system was working flawlessly," Park says. "The building looked good and we were happy, but this was a building that had to perform. It had to do what we said it was going to do. And it did, many times over."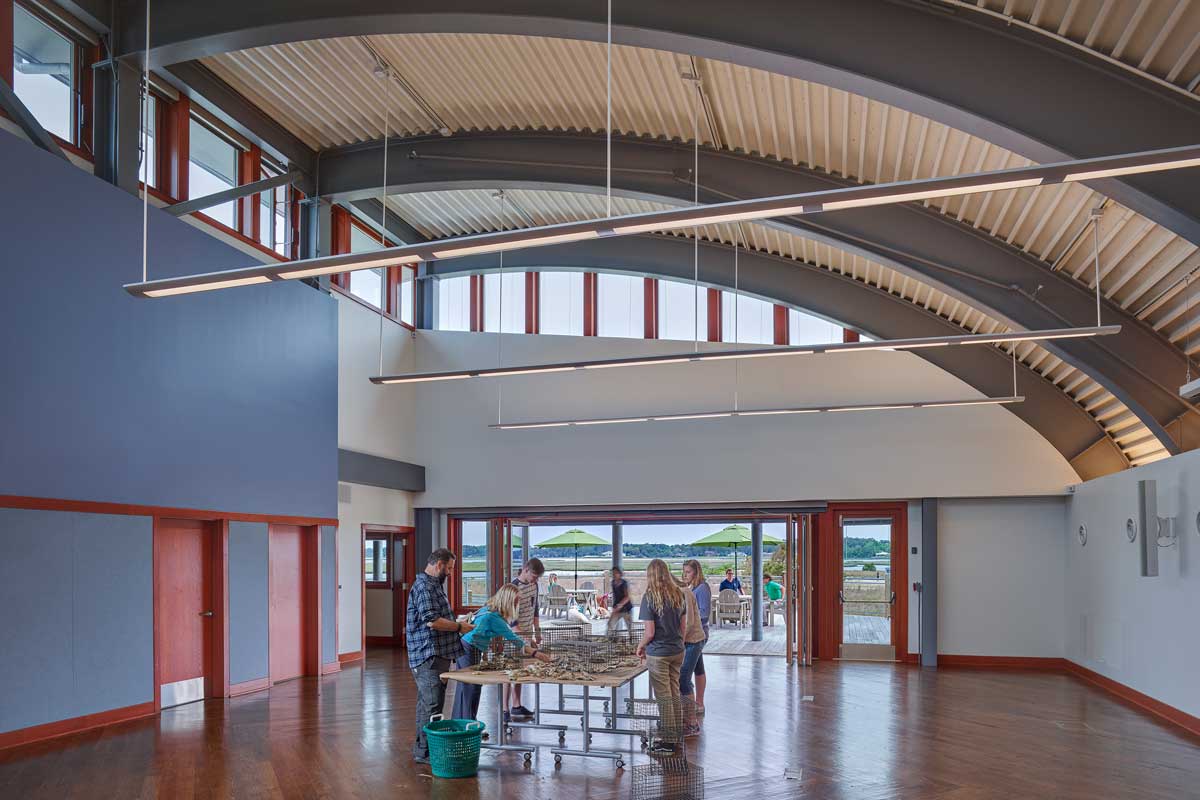 Post-occupancy, Park has worked with the CBF team to train employees on how to operate the building. A Building Information Model (BIM) and Building Management System (BMS) allows occupants to view a 3D model of the various systems to understand how the Brock Center lives and breathes and requires upkeep, and controls the building both locally and from afar. "If the building manager doesn't know what's going on he knows he has to make one phone call to us and it's taken care of," he says. The Brock Center, he says, has "put Virginia Beach on the map" as a leader on sustainable architecture, design, and engineering. "It's an incredible honor for the city and community to have."
A Team Effort
Establishing a game-changing building like the Brock Center not only requires vision and leadership, but also a lot of talent and hard work. That effort is spread across a far bigger group than the three leaders profiled here. A much larger team worked with Winchester, Mella, and Park to make the building a reality. Less than two years after opening, the Brock Center is already making waves and inspiring people well beyond Virginia Beach. As a transformational building, the Center is opening eyes to what's possible in the future.