The Living Building Challenge launched in 2006 with an exciting and incredibly audacious question: Is it possible to upend the design and construction paradigm to design and create buildings that function as elegantly and beautifully as anything found in the natural world?
At first, the challenge was real. Many professionals questioned whether it was even possible—Could you really design a building that, like a flower, is powered 100% by the sun, harvests all the rainwater it needs for its uses on site, is made only from locally sourced materials, and is beautiful?
A few inspired, intrepid designers and project teams set out to show that it was indeed possible. These first projects, while often small in scale, were large in ambition. Even after their success, some doubters persisted, claiming that even though these first projects showed it was possible, the challenge was not practical, financially feasible and most certainly not scalable.
Now in 2018, the proof is in the ever-growing roster: 86 buildings have met this challenge, and hundreds of others are in eager pursuit.1
The first project to really break through this barrier was the Bullitt Center, a project that I had the privilege of working on during my senior year at the University of Washington. The Bullitt Center demonstrated that achieving the Living Building Challenge in a six-story Class A commercial building, in the least sunny major city in the continental United States, was not only possible, it was also practical, replicable, and profitable.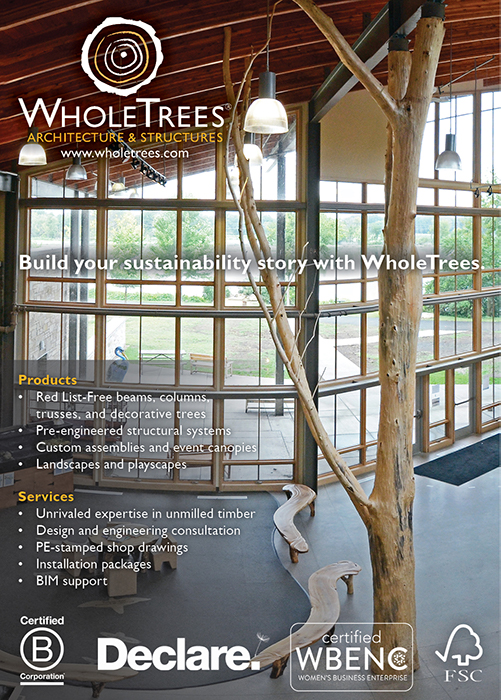 This breakthrough project has now encouraged hundreds of follow-on projects in the United States and across the globe, with a ripple effect of redefining what high performance means in commercial design and construction.
Around the same time, ILFI began allowing projects to "Petal" certify by demonstrating leadership in one of the more challenging Petals within the program: Materials, Water, or Energy instead of the whole program. Petal certification opened up new pathways for project teams to demonstrate leadership on a key issue area, and has started a growing trend, particularly for commercial offices. A number of projects are now Petal-certifying the Materials, Health and Happiness, and Beauty Petal. This pathway leverages the Living Building Challenge framework to ensure that companies and organizations are providing the highest quality office space for their employees, a key strategy for many companies to attract and retain top talent.
The first project to pioneer this trend was the Natural Resource Defense Council (NRDC) Chicago Office. NRDC pursued the Living Building Challenge not only to ensure they met the highest levels of environmental performance, but also to ensure the healthiest and highest quality space for their employees. NRDC now has multiple Certified offices including San Francisco and Beijing and is implementing LBC across their real estate portfolio.
Etsy took this strategy to a new scale with their headquarters in Brooklyn, NY, a 200,000-square-foot, Materials Petal–certified project, the largest certified project at the time. Etsy saw the Living Building Challenge as both a way to demonstrate their values and to improve their company's bottom line by attracting top employees.
Etsy's record did not stand for long, their achievement was followed shortly thereafter by an even larger certification of Google's new 250,000-square-foot Chicago renovation. Google's priority was to have a workplace that was the healthiest environment possible—a place that inspires and empowers Google employees to perform at their best, every day. They chose to pursue Materials Petal certification with a strong focus on Biophilic Design, intentionally fostering design features and architectural moments that connected people with nature.
Since then, the LBC has leapt forward at an unprecedented scale. With numerous projects larger than 100,000 square feet, including corporate campuses over one million square feet, ILFI's current project counter reads 430 registered projects in 14 countries. The average project size has grown in tandem with this growth.  Newly registered projects regularly exceed 100,000 square feet and are on average over 66,000 square feet in 2017.
Project teams and building owners are discovering that pursuing a Living Building gets you more than the greenest building on the block—you end up with a fundamentally better building, superior to almost all standard construction and most current sustainable construction. By addressing key issues of human health, including access to fresh air, daylight, and ventilation, a Living Building just feels better. Now to improve your health, well-being and productivity, one simply walks inside of a Living Building.
As the market for Living Buildings has grown, the value proposition for the Living Building Challenge has become increasingly clear. Owners and developers now realize that the framework of the Living Building Challenge, while still challenging, provides clear and compelling value to owners and occupants, outweighing any incremental costs incurred through meeting the building standard. In consultation with our leading-edge projects, ILFI has identified the following four value propositions that are demonstrating the business case for Living Buildings.
Proven Performance
Unlike other green building certification, ILFI is the only program that requires verification of twelve months of performance data by an independent, third-party auditor, including on-site inspection. Instead of relying on prescriptive standard or design calculations, the LBC's third-party auditors ensure each project is meeting the highest standard for quality and regenerative design based on a twelve-month performance period.
Performance verification ensures that projects function as designed, and the third-party process creates accountability for project teams throughout all project phases. Living Building Challenge projects regularly provide best-in-class energy consumption and saving, and many redefine the level of energy efficiency possible for their project type and climate zone. Living and Zero Energy Buildings are counted among the best performing projects on the market today.
Industry Recognition
By pursuing the Living Building Challenge, you will be joining the ranks of the world's leading sustainable designs and earn high-profile industry recognition and visibility. Living Buildings are regularly recognized with national and international media attention and garner prestigious design awards. The American Institute of Architects Committee on the Environment (COTE) regularly selects Living Buildings for their prestigious Top Ten Award. In fact, a Living or Zero Energy Building has been selected every year for this award since 2014 and made up 40% of the award winners in 2016.
Over the past four years, World Architecture News has selected Living Buildings for their sustainable buildings category, including two winners in 2013 and 2014. The VanDusen Botanical Gardens, in Vancouver, BC, pictured below, was selected as the world's most sustainable building in 2014.
Living Buildings are regularly profiled in national and international publications, including GreenBiz, CNN, the New York Times, Huffington Post, Fast Company, Fortune Magazine, and countless other trade journals and online publications.
Invest in the Future
Living Buildings are resilient, self-sufficient systems that provide energy and water security for decades to come, as well as long-term financial benefits to the owners and occupants.
When you create a building that earns Living Building Challenge certification, you have not only delivered a building designed for occupant comfort, but you've delivered to your client, employees, or community a resilient building: a building that is self-sufficient, that is energy- and water-independent, that eliminates future risks in an uncertain climate and world.
While costs specific to the Living Building Challenge are difficult to distinguish from overall project costs, the data is becoming increasingly clear, especially in regards to Zero Energy.  The most recent research shows that the cost premium is 5-19% to achieve Zero Energy. Current tax credits and renewable energy credits can, in some locales, provide up to a 30% return on investment for achieving Zero Energy, compared to an ROI of only 5-12% for typical energy conservation measures.4
For example, The Bullitt Center, which was the first speculative commercial office building to meet the Living Building Challenge, is already a performing financial asset for its owner, the Bullitt Foundation, demonstrating that the Living Building Challenge is financially beneficial for owners with reasonably long time horizons for their investment.
Prioritize People
Perhaps the most compelling value proposition for current owners and occupants is that the Materials, Health and Happiness, and Beauty Petal frameworks ensure that the buildings provide healthy, productive environments that prioritize people.
There is a 3-30-300 rule of thumb in real estate that states organizations typically spend approximately $3 per square foot per year for utilities, $30 for rent, and $300 for payroll.2 While these figures are general estimates and can vary, they help to underscore the critical importance of investing in the well-being of occupants. According to the 3-30-300 model, the greatest financial benefit to pursuing a Living Building Challenge project may not be the energy or water savings. For example, a 2% energy efficiency improvement would result in savings of $0.06 per square foot, but a 2% improvement in productivity would result in a gain of $6 per square foot through increased employee performance.
The benefits of green building to employee health and productivity are becoming increasingly well researched and understood. A recent study from the Harvard School of Public Health demonstrated that improved air quality and other green features in buildings improved the cognitive function of building occupants.3 Cognitive function scores were better in green building conditions compared to the conventional building conditions across nine functional domains, including crisis response, strategy, and focused activity level.
If you factor in the potential benefits from fewer sick days, and better employee recruitment and retention, the benefits are even higher.
Catalyzing Change
While the business case for Living Buildings is becoming increasingly clear, particularly with regards to human health and well-being, for many companies and organizations, the most compelling reason to pursue an LBC project is the opportunity for each project to become a catalyst for change in the community and industry. By working toward the LBC, your project will help accelerate a movement toward a complete remaking of our built environment to work in harmony with the natural world, which is desperately needed in a time of growing climate change and environmental decline. Each Living Building helps redefine what is possible in its sector and climate and becomes an inspiration for other project teams to dream bigger and reach higher. While the business case for Living Buildings is becoming clearer every day, you can't put a price on changing the world.
Notes