"We strongly value our certification with ILFI because it's based on proven performance, instead of modeling or projections." – Julian Weber AIA, Founding Principal of JW Architects
ILFI's Zero Energy Certification program has now been streamlined to save project teams time and money, and continues to be implemented along with ILFI's flagship certification, the Living Building Challenge, as a framework for design with leading projects, policies, programs, and incentives around the world. Based on demonstrated operation at net zero energy over a 12 consecutive month period after a building is constructed and occupied, Zero Energy Certified projects like JW Architects' commercial office on King Street in Seattle receive third-party verification of performance from ILFI's independent auditor network. Leading projects like this are helping shape a profound, transformational growth in the zero energy marketplace.
"Our Zero Energy Certification with ILFI is one of the signature achievements of our firm." – Julian Weber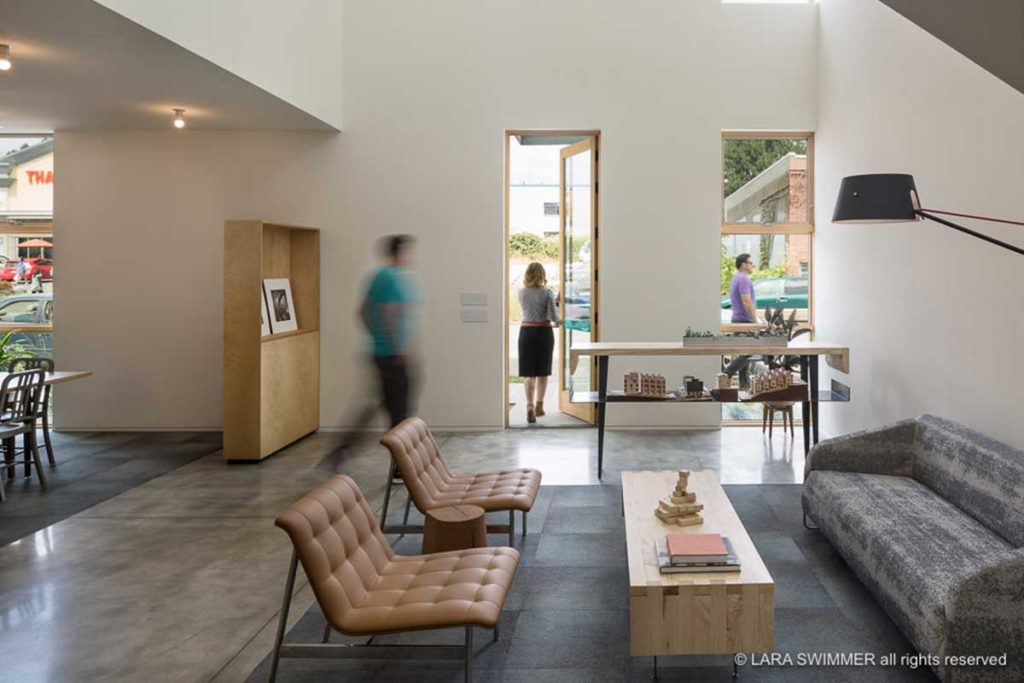 JW Architects' King Street project was specifically designed to be a zero energy building. By utilizing highly effective design both internally and externally, the space is able to produce more energy than it uses on an annual basis. The energy goals for King Street include simple ideas that are both sustainable and achievable. The whole team has a stake in this one statement: "Our building produces more energy than it uses." The statement is clear and succinct and anyone can understand it. Energy conservation is embedded in the JW Architect office culture and everyone contributes.
All workstations, appliances, printers, and mechanical systems were thoroughly researched and chosen based on their quality to efficiency ratio. The lighting load during office hours is minuscule on a typical Seattle day because the entire office is illuminated by the sun through large south facing windows. The design of the LED lighting system to supplement the natural lighting focuses on individual task lighting versus inflexible ambient lighting. These tactics to reduce the energy load of the building allow for more flexible comfort zones and significant utility savings. The projected Energy Usage Intensity (EUI) was 20.4 and it ended up being 17.4. This was attributed to daylighting and using less artificial lighting. Production ended up being 27.5 MWh, which was up 8.3% from the estimate. The actual use was 18.8 MWh, which was 15.7% down from the estimated use.
"Certifying with ILFI was such a pleasant experience that included collaboration, inspiration, and positivity. ILFI was rooting for our success from day one and they were thrilled when they presented us with our certificate for the second zero energy office building in Seattle." – Julian Weber
While designing and energy modeling the building, JW Architects worked with a sustainable building consultant to make strategic and cost-effective upgrades to the mechanical system and building envelope. Those included upgraded insulation, high-efficiency mechanical system, heat recovery ventilation, a 100% LED lighting system, and a 24 kW PV solar array.
An eGauge came complimentary with the solar panels and has been a valuable tool for the office. It monitors the production and usage in real time. It also allows for the diagnosis of problems in real time, such as when the north zone of the building is running heat while the south zone is running AC. In that case, turning off both and running the Heat Recovery Ventilation (HRV) evens out the temperature. The eGauge also engages and connects the building with the weather patterns. The clouds are clearly visible in the morning but then clear up by the early afternoon. On August 21st, the solar eclipse showed clearly on the eGauge and it's possible to see as the moon moved in front of the sun as the solar production dropped to nearly zero. In addition to high energy performance, the office has been a great place to continue working in a collaborative style.
"We have been pleasantly surprised by the respect and awareness of ILFI certification in the design and building community." – Julian Weber
About JW Architects
JW Architects is a 16-person architecture firm based in Seattle. Through a highly collaborative design process that includes clients, architects, designers, and consultants, the firm works to provide higher density urban housing, producing a lower carbon footprint.