For both manufacturers and designers, the Declare program provides a clear, elegant and informative method for ingredient disclosure. Declare stands by transparent and open communication and with our new database, we're allowing consumers and designers a more streamlined point of entry into the world's most groundbreaking products.
Andrea Cooper, Declare program Manager, discusses the benefits of this new platform and how it will ensure the program's continued growth.
Question: What is the purpose of the Declare program?
Andrea Cooper: Declare is a product ingredient transparency platform. Declare requires ingredient reporting to 100ppm for a minimum of 99%, by weight, of a product's ingredients. Those ingredients are then screened against the Living Building Challenge Red List,  and identified Red List ingredients are highlighted. The published Declare label and database entry summarize the product ingredients and alignment with the Living Building Challenge requirements, making it easier for product specifiers to make informed decisions about product health and environmental impact.
Q: What are some key features of the new Declare Database?
AC: The new database was developed with manufacturers and product specifiers in mind. Products are organized by manufacturer and we have added filters for Declaration Status, CSI MasterFormat Division/Section, and manufacturer name. We have improved the search feature and added product images, making it easier for site users to find and understand a product that works for their intended application.
The new Declare Database will help the Declare program continue to grow and thrive! There are now over 500 labels issued through the Declare program. Declare has been excepted as a compliance path for the LEEDv4 Building Products and Optimization- Material Ingredients credit, Option 1. Also, Declare is expanding into international markets, helping to fuel the growth of the program. We will be adding "LEEDv4 Compliant" and language filters in the near future to serve these new markets.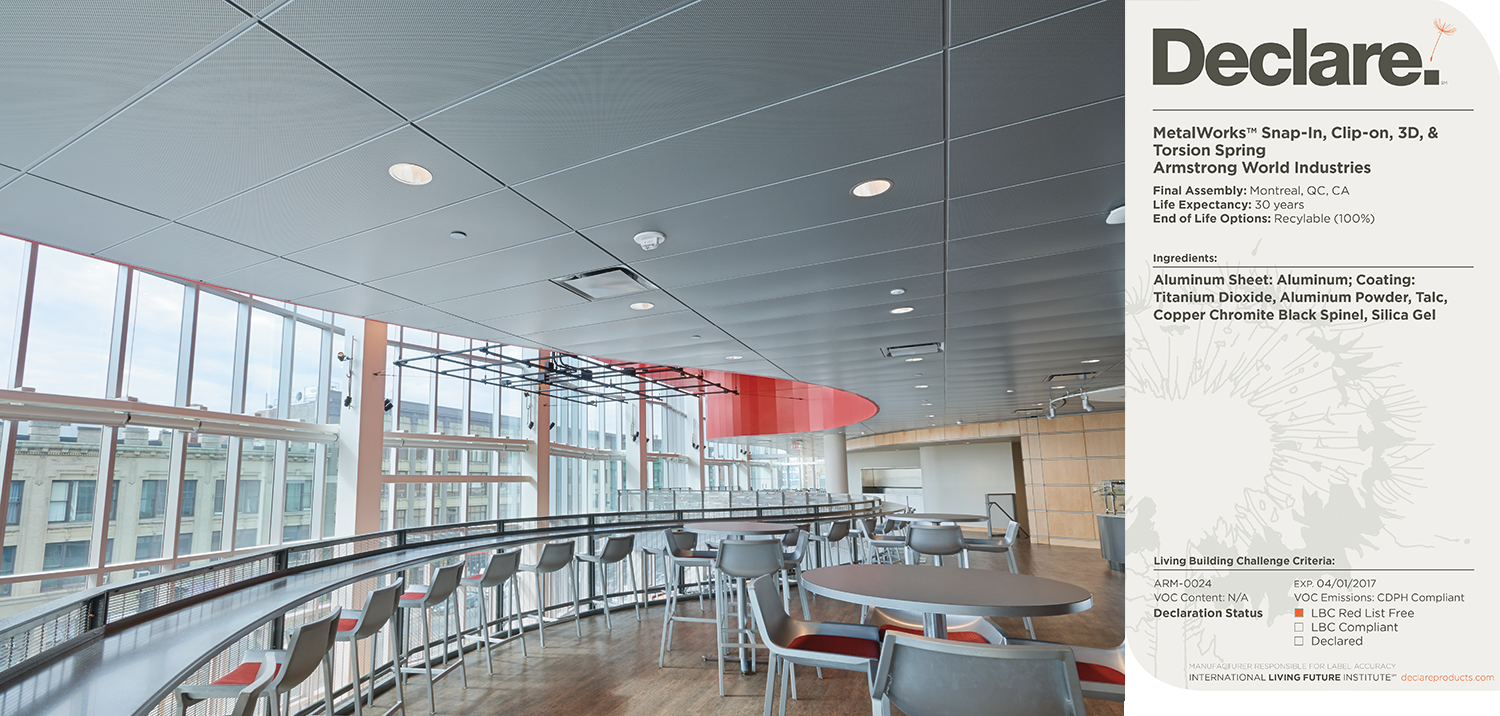 Q: How will the database benefit designers?
AC: Our goal was to create an easily navigable database. We want to make it easier to research and specify Red List Free, LBC Compliant, and Declared products. While updating the database, we have also encouraged manufacturers to include product images and more detailed product descriptions.
Q: How will the database benefit manufacturers?
AC: There is a whole new submission process. Manufacturers can now submit and manage all their labels through their ILFI login. The new platform allows easy payment by credit card and easy label renewal. The online submission form clearly lists the required Declare submission requirements and allows draft, save, and submit label applications. The new form also allows manufacturers to vet their ingredient against the Red List using our new ingredient list tool.
Once reviewed and published by ILFI staff, the Declare label is linked to the manufacturer's account in the database. Manufacturers can now share their entire Declare portfolio with a single link.